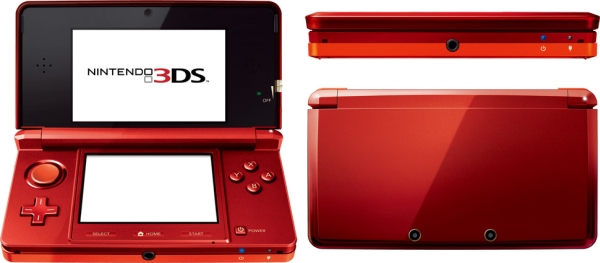 Nintendo's New York City reveal of the 3DS is finished and we now know everything about the company's next handheld.
It'll launch on March 27 with a suggested retail price of $249.99, making it Nintendo's most expensive handheld ever. And what do you get for your money, in addition to the 3DS system, the box will be packed with a ton of extras:
Telescoping stylus
Mii Maker software
A physical activity log/pedometer program
Face Raiders, a pre-installed game that uses the 3DS' camera
"Enhanced" Internet browswer
Sound software/MP3 player that's very similar to what's on the DSi
AR Cards for "alternate reality" games
2GB SD card
Nintendo plans to have more than 30 games available for the 3DS between its launch and E3 in June. The publisher didn't want to get specific about which titles would be available on day one and which would be available in the launch window, but 24 titles were revealed by Nintendo this morning, including Nintendogs + Cats, Pilotwings Resort and Steel Diver.
As to the 3DS' online capabilities, Nintendo revealed that the handheld will still use Friend Codes, but they will be system-specific. Individual game codes will no longer be required. And the system's "Spot Pass" will attempt to connect to wi-fi networks automatically.
Finally, the 3DS eShop will include "a steady stream of Game Boy and Game Boy Color games," along with a variety of original titles.
So that's what we know about the 3DS, are you excited yet?