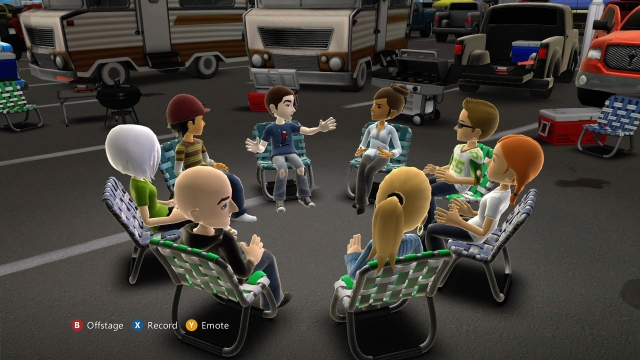 The 2011 Consumer Electronics Show is in full swing and Microsoft CEO Steve Ballmer used the company's keynote last night to unveil some new toys for the Kinect owner.
Avatar Kinect is a virtual chat room with Avatars, powered by Kinect, that brings "[facial] recognition, body tracking [and] even facial expressions" to your living room. As you can see from the screenshot above, Kinect-owning Xbox 360 players will be able to circle the lawn chairs and have an awesome conservation in a trailer park. OK, those Avatars are tailgating, but they're still in a parking lot surrounded by RVs.
Ballmer also threw out some numbers during this bull session and revealed that 8 million Kinect sensors were sold this holiday season. And if these users weren't on Xbox Live before, they are now, as Ballmer announced the online service's total user population recently surpassed 30 million users (out of 50 million Xbox 360 systems sold worldwide).
Ballmer closed out the game portion of Microsoft's CES discussion with a Windows Phone 7 presentation. You can check out the video below for a closer look at Microsoft's de facto handheld system after the jump.
In case you're videophobic, here's what we saw:
Rise of Glory (a World War I dogfighter)
Full House Poker
Zombies!!!
Pac-Man
Fable Coin Golf
Halo Waypoint
Fruit Ninja
De Blob: Revolution
Parachute Panic
Tetris
Xbox Live Game Room
Assassin's Creed: Altair's Chronicles
Monopoly
Pocket God
Zombie Attack! 2
Butterfly
Pro Evolution Soccer 2011
The Sims 3
Need For Speed Undercover
Star Wars Cantina