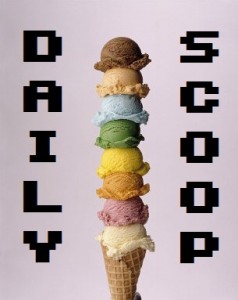 Today's Daily Scoop brings you Amazon's Deal of the Day: Bejeweled 3 by PopCap Games for the PC. It's just $12.99 today down from $19.99. Amazon also wants you to know about "Get Fit, Have Fun, Save," another one of their sneaky attempts to get you to exercise. Dude. Amazon. We're geeks. Get over it already.
No t-shirt deals today…that is, unless you want to check out the massive clearance sale over at Thinkgeek. That Aperture Laboratories Work Shirt is on sale (up to 16% off) and so is the Science To Do Portal Babydoll (up to 26% off). I'll even share a secret with you – but only if you like coupons. That is all I have to teach you today. Go forth into the world. And if you live where I do, be sure to wear your snow boots, because it's on.
State and local statutory regulations prohibit us from revealing the entire nature of the experiment you are participating in today, but be informed that it may involve physics, psychology, thermodynamics, pharmacology, and non-Euclidean geometry. And cake. For the party. At the end. When you're done. Sometimes cake is my favorite part of science. When asking your children if they would like to attend the Aperture Science Bring Your Daughter to Work Day, remind them that science = cake.