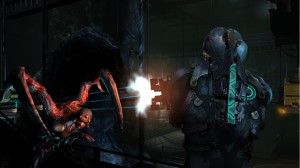 Dead Space 2 isn't even a day old yet, but the screaming, horrifying newborn already has DLC coming. Visceral Games announced Dead Space 2: Severed, which will include two stand-alone single player chapters featuring Gabe Weller and Lexine Murdock, characters from Dead Space: Extraction. The story will run parallel to that of Isaac Clarke's in Dead Space 2, but you will instead be in Weller's shoes as the Sprawl Security Guard fights to get himself and Murdock to safety.
In case that wasn't enough excitement for you, now we've also got Dead Space for the iPhone, iPad, and iPod Touch. Developed by Iron Monkey Studios in close conjunction with Visceral Games, this portable Dead Space promises to be just as terrifying as the full retail games have been. Dead Space is available now at the iTunes store.
So, let's see… Dead Space 2 is out; DLC was announced for it; there's an iPhone game; Dead Space: Extraction is available on the PSN and is also included in the PlayStation 3 version of Dead Space 2; the new animated movie, Dead Space: Aftermath, came out today; and the Dead Space Rig Backpack is scheduled to ship soon. It's like a Necromorph Christmas in January.