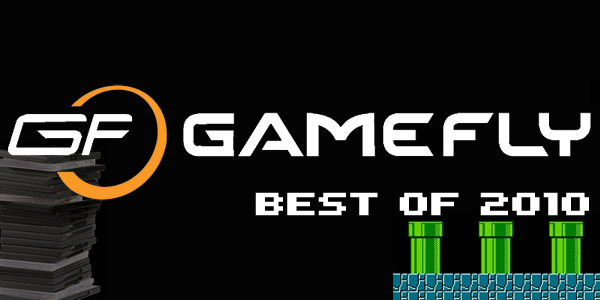 Early Wednesday morning, GameFly released several Top Ten lists, documenting the rental service's most popular titles of 2010. As expected, GameFly's most-rented games closely match up with the most purchased games of 2010, logging titles like Take Two's Red Dead Redemption and the latest game in Activision's ever-popular Call of Duty series, Call of Duty: Black Ops.  GameFly's co-founder Sean Spector states: "The GameFly community is comprised of active and dedicated gamers and we view their preferences, requests and favorites as a great barometer for what's hot in gaming."
Though the aforementioned shooters dominated consoles in 2010, GameFly's handheld rental numbers seemed to thrive with RPG titles such as Kingdom Hearts: Birth By Sleep and Dragon Quest IX: Sentinels of the Starry Skies. Could this predict an emergence of the RPG genre exclusively among handheld systems, leaving consoles solely for action games?
The cross-platform list and all of the platform-specific lists can be found below.
Cross-Platform
1. Red Dead Redemption (PS3, Xbox 360)
2. Call of Duty: Black Ops (PS3, Xbox 360, Wii, DS)
3. Assassin's Creed: Brotherhood (PS3, Xbox 360)
4. Star Wars: The Force Unleashed II (PS3, Xbox 360, Wii, DS)
5. Battlefield: Bad Company 2 (PS3, Xbox 360)
6. Mafia II (PS3, Xbox 360)
7. Medal of Honor (PS3, Xbox 360)
8. God of War III (PS3)
9. Fallout: New Vegas (PS3, Xbox 360)
10. Tom Clancy's Splinter Cell Conviction (Xbox 360)
Xbox 360
1. Red Dead Redemption
2. Call of Duty: Black Ops
3. Tom Clancy's Splinter Cell Conviction
4. Halo: Reach
5. Battlefield: Bad Company 2
6. Mass Effect 2
7. Alan Wake
8. BioShock 2
9. Assassin's Creed: Brotherhood
10. Fable III
PlayStation 3
1. God of War III
2. Heavy Rain
3. Red Dead Redemption
4. Call of Duty: Black Ops
5. Assassin's Creed: Brotherhood
6. Dante's Inferno Divine Edition
7. Battlefield: Bad Company 2
8. Mafia II
9. Star Wars: The Force Unleashed II
10. Medal of Honor
Wii
1. Super Mario Galaxy 2
2. Donkey Kong Country Returns
3. Disney Epic Mickey
4. Metroid: Other M
5. Red Steel 2
6. Monster Hunter Tri
7. Kirby's Epic Yarn
8. GoldenEye 007
9. Wipeout
10. Just Dance 2
DS
1. Pokemon SoulSilver
2. Pokemon HeartGold
3. Dragon Quest IX: Sentinels of the Starry Skies
4. Super Scribblenauts
5. Professor Layton and the Unwound Future
6. Golden Sun Dark Dawn
7. Mario vs. Donkey Kong: Mini-Land Mayhem
8. Picross 3D
9. Ace Attorney Investigations: Miles Edgeworth
10. Toy Story 3
PlayStation 2
1. Silent Hill: Shattered Memories
2. Madden NFL 11
3. MLB '10: The Show
4. WWE SmackDown vs. Raw 2011
5. NCAA Football 11
6. Sakura Wars: So Long, My Love
7. Despicable Me
8. NBA 2K11
9. Toy Story 3
10. Lord of the Rings: Aragorn's Quest
PSP
1. Kingdom Hearts: Birth by Sleep
2. Metal Gear Solid: Peace Walker
3. God of War: Ghost of Sparta
4. Valkyria Chronicles 2
5. Dante's Inferno
6. Naruto Shippuden: Ultimate Ninja Heroes 3
7. Shin Megami Tensei: Persona 3 Portable
8. Lunar: Silver Star Harmony
9. SOCOM: U.S. Navy SEALs Fireteam Bravo 3
10. Army of Two: The 40th Day