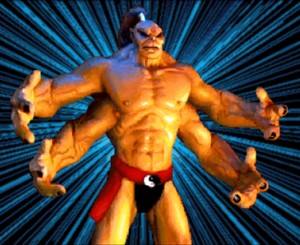 Game Informer's February 2011 issue keeps the hits coming as the magazine has konfirmed (via Mortal Kombat Online) that Goro and Jade will be appearing in this April's Mortal Kombat reboot.
Goro is the four-armed giant you see to your left. He also served as the sub-boss of the original Mortal Kombat arcade game and has become a fan favorite over the years thanks to his rivalry with Johnny Cage. According to Mortal Kombat kreator Ed Book, Goro's role in the upcoming game will once again be as a boss. And as of right now, it doesn't sound like he'll be a playable character.
On the other hand, we have Jade (the green counterpart to Kitana and Mileena), who was also revealed by Game Informer. The magazine depicts her wielding her boomerang weapon and looking awesome doing it in a costume that looks like a mashup of her Ultimate Mortal Kombat 3 and Mortal Kombat: Deception threads.