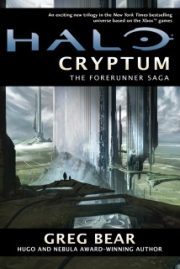 More than half a dozen novels have fleshed out the expanded universe of the Halo franchise since the first game in the series was released in 2001. Today, 343 Industries delves even deeper into the pre-history of Halo with the release of the first part of The Forerunner Saga.
Written by acclaimed science fiction author Greg Bear, Halo: Cryptum travels more than 100,000 years into the past:
Eons ago, the galaxy was home to many species, but chief among them were the Forerunners, who exceeded all others in both technology and knowledge. They ruled peacefully, but countered opposition with quick and brutal effectiveness. They were of the Mantle, the next stage of life in the Universe's Living Time.

And then they vanished.

This is their story.
If you want a small taste of the story before you take a trip down to your local bookstore (or library), Tor and the Halo Waypoint have the first two chapters available for viewing.
Chapter One can be found at Tor.com while HaloWaypoint.com has Chapter Two.