With the release of LittleBigPlanet 2 just a few days away, we got a chance to chat with Media Molecule's Community Manager, James Spafford. Hit the jump for a few words on all the new tools available in LBP2, a little bit about the game's single-player campaign and what it's like working for Media Molecule.
So without further ado…
Warp Zoned: So, James, let's talk about LittleBigPlanet 2. The big tagline is that it's not just a platforming game anymore – now it's a platform for games. What does that mean for the excited community out there counting down the days til LBP 2's release?
James Spafford: Catchy little phrase that isn't it? Where LittleBigPlanet was primarily a platform game, lots of running and jumping, we saw that people didn't want to just make platform games, they wanted to make arcade games, shooters, puzzlers, movies, and all kinds of other things, but the tools just weren't there to support them. We saw people build some incredible things, but the reason they were great was that they had overcome the limitations of the tools, and somehow made something insane, not that they were actually fun to play.
LittleBigPlanet 2 has a hugely expanded toolset, and allows you to make just about any kind of game you want to make… So instead of spending 40 hours trying to make a spaceship fly, you can make a spaceship fly in five minutes, and then spend 40 hours making a fun series of levels for it to exist in, and concentrate on the playability aspect.
Already we've seen some incredible things being built – entire games and movies, concepts of RPG systems or beat 'em ups, even some mind blowing attempts at first person shooters, and a version of Windows.
WZ: What are you personally most excited about?
Spafford: The beta has allowed us to get a sneak peak of the kinds of things people will be able to make, and our minds have been blown on a near daily basis. We're ready for that to happen on a an even larger scale come launch day… well I say ready, but I don't think anyone here will actually be ready for some of the things people will create!
From a community perspective, I'm most excited about some of the creation teams we've seen popping up – people with all kinds of different skills, like art, writing, logic, etc, coming together to make games using all their skills together – they are like mini development studios, and I'd love to see more of that cooperative spirit, people coming together.
WZ: What, if anything, can you tell us about the story?
Spafford: The story mode of LBP2 is much grander than the first game, with lots of new voiced characters and cutscenes, all put together with the new tools. The plot focusses around an evil force called the Negativitron, which is basically a giant mean vacuum cleaner that wants to suck all the creativity out of the cosmos.
Sackboy is recruited to join the Alliance and prevent that from happening with a little help from his friends, an army of sackbots, and lots of vehicles and toys!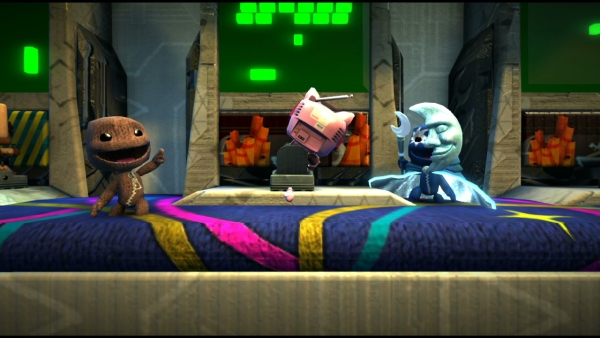 WZ: How long will the campaign be? Can you tell us that?
Spafford: There are about 50-60 story mode levels in there, it's probably about the same length as the first game, depending on how fast you want to blast through it. Of course all the levels are full of secret collectibles and multiplayer puzzles again so that should keep you going.
WZ: Will LBP 2 still have features from LBP 1, like co-op puzzles and different trials (getting all the prize bubbles, finishing the level without dying, etc)?
Oops, answered some of that above! Yeah we have all of those things in there and more! We have some new game modes such as Versus levels now too, for proper deathmatch action, and over 700 collectible pins, which are kind of like special trophies.
WZ: I have the guide for the first game – it was huge. How big is the guide going to be for the second game?
Spafford: Well, the good thing about the new tools is that whilst they certainly enable a whole new level of depth for those that know how to use them, they also allow people with less time and energy to get a more satisfying result much faster… So it depends on how much depth the guide folks care to dive in to!
I'd expect some community guides to get pretty huge though – you could write whole guide books just for one feature, such as the music sequencer or some of the electronic components.
WZ: Can you tell us anything about any of the costumes? Maybe just one or two? Pleeeease?
Spafford: What would you like to know? I can tell you that the collectible costumes have been designed to match each theme in the game, and are all really fun, some are crazy. Oh we also have animated, transparent, and fluffy textures now which opened up some pretty cool new options for making costume pieces!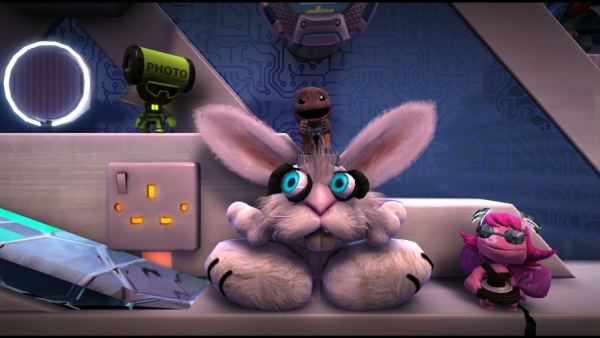 WZ: LittleBigPlanet 2 went gold not long ago. I bet you guys are very excited! What's it like to celebrate with the other molecules?
Spafford: We did, it was a great day, the team here have worked themselves to oblivion, and they needed the champagne to revive them – If you like champagne, you'll like celebrating with the molecules!
Actually our gold celebrations had to go on for quite a while because the UK was covered with snow and loads of people couldn't get into work to celebrate properly. There are still a couple of bottles of champers upstairs actually… Hmm, excuse me for a second…
…
…
* distant sound of champagne cork and cheering*
WZ: Along those same lines, what's it like to work at Media Molecule? How did you get your start with them?
Spafford: I love working here, there's such a creative force and a loving spirit. Plus we have a freezer full of ice cream!
I saw Alex [Evans, the company's co-founder] talk at develop one year, and he confirmed my suspicions that Mm was an ideal place for me to be… I was already a huge fan of the game, and worked in community management, and set about to combine those two things with my friend and colleague Tom [Kiss]. We dived on into the LBP community, creating some websites, talking to everyone (including LittleBigPlanetoid, Sackroll and LittleBigFans), etc.
Long story short, we managed to somehow convince the folk at Mm that they needed not one but two community people, and Tom and I were the team for the job. Happy days!
There are more folk who came from the community here, I love that about Mm. We've also managed to work with quite a few of our community members on things like TV ads or specially commissioned levels for LBP2, they are a very talented bunch!
WZ: Any final awesomeness you want to pass on to the gaming community?
Spafford: I hope you enjoy our new game, we put a lot of love into it, and we are honestly sitting on the edge of our seats waiting to see what you can come up with using all these new tools – make us proud, we love you!