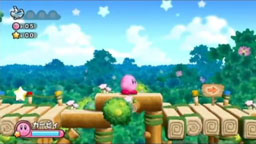 Kirby's Epic Yarn was one of 2010's biggest surprises. Gamers everywhere loved the patchwork look of the game which had many of them in stitches (pun intended!).
But after a Nitendo investor's briefing, it appears the company is wasting no time bringing the little puffball back. HAL Laboratory is developing a currently untitled Kirby Adventure game for the Wii that gives Kirby a variety of different hats. A trailer showcasing the side-scrolling gameplay is available at Nintendo Japan's website, but it's also available in a larger format on YouTube, which you can watch right here:
As you can see from the trailer, each of the hats gives Kirby a new power including Link's Cap (which allows Kirby to swing a sword), a flame cap (that calls a dragon) and a cowboy hat (that gives him a lasso).
The trailer is very similar to one that Nintendo released years ago for an untitled Kirby title for the GameCube. Perhaps this game is that game reincarnated?
And on a final Kirby-related note, Nintendo included a new Kirby game for the DS in their quarterly list of upcoming titles, but no other details were revealed.