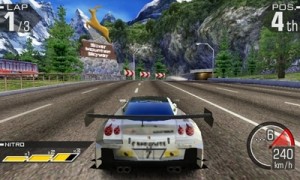 It's Ridge Racer!
Namco Bandai continues the tradition of having a new entry in their long-running racing series ready for a hardware launch with the announcement that Ridge Racer 3D will be released for the 3DS this Spring. The publisher promises many new features will be available in the game including "breathtaking stereoscopic 3D visuals, a wider variety of dominating racing machines including American muscle cars, new environments, expanded customization options and updated drift mechanics that continue to define the Ridge Racer experience."
And those drift mechanics will be easier to pull off in Ridge Racer 3D as the game will include a dedicated "Drift Button" for easy on/off drifting. The title will also include the option to use the franchise's original drift controls.
Namco Bandai has released a few new screenshots of Ridge Racer 3D, which you can view after the break.