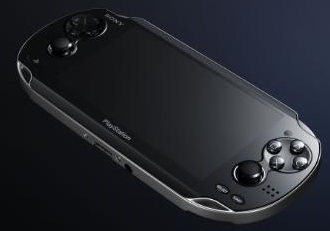 As expected, Sony revealed the next generation of the PSP platform at an event in Tokyo late last night. The new system, which Sony has temporarily named the "Next Generation Portable" (NGP), looks very similar to the current PSP design. But now it includes two analog sticks and a multi-touch OLED screen. The gamemaker plans to release the NGP by the end of 2011.
Like they did with the PSP, Sony is touting the graphical capabilities of the NGP, saying the system's "high-performance CPU/GPU" will create "rich, visually striking graphics never seen before on a portable entertainment system." They also talked up the system's unique multi-touch pad on the back of the handheld, which will allow "touch, grab, trace, push and pull" motions in games. Six-Axis motion sensing rounds out the control options for the NGP.
The system will also make use of two cameras (one on the front and one on the back) along with a new game storage medium. The UMD is dead (though PSP games downloaded from the PlayStation Store will run on the NGP) and in its place is a "small flash memory-based card" that will be able to store save data and add-on content. As games get bigger, Sony plans to release larger cards allowing the system to be "forwards compatible" in a way.
Sony also wants to make the NGP a social machine with two applications, LiveArea and Near, that can "trigger real-time communication" among gamers and offer an activity log of recent games played. A built-in GPS program will also aid in the social aspects of the NGP.
As you might have expected, no pricing information was announced.