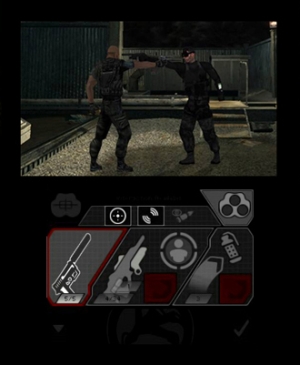 Ubisoft plans to bring eight games to the 3DS' launch window, more than any other third party publisher and more than even Nintendo themselves.
As you might expect from the company, the eight titles are heavily skewed towards Ubisoft's existing franchises. Exact release dates for each game weren't announced, but gamers can expect a 3D take on Tom Clancy's Splinter Cell, the first-ever turned-based Ghost Recon game, a new entry in the Driver series, a remake of Rayman 2 and a new Rabbids platformer.
Ubisoft's 3DS launch lineup is rounded out by Asphalt 3D, a racing game; Combat of Giants: Dinosaurs 3D, a one-on-one fighter starring dinosaurs; and James Noir's Hollywood Crimes, a puzzle game with a quirky protagonist (shades of Dr. Layton perhaps?).
More details on all eight titles can be found after the break.
Asphalt 3D: Developed by Gameloft and published by Ubisoft, Asphalt 3D brings all the excitement and speed of the Asphalt franchise to stereoscopic 3D, featuring more than 40 licensed vehicles, 17 exotic track locations and complete StreetPass functionality.
Combat of Giants: Dinosaurs 3D: This 3D take on the popular kids' franchise mixes exploration and customization with real-time combats. Players ages 7 to 10-years old will be immersed into a cataclysmic universe and live the ultimate 3D fighting experience.
Driver: Renegade: The first and exclusive action driving game on the Nintendo 3DS that lets the player experience the intensity and brutality of urban car chases in 3D. Players will embody the Driver series hero John Tanner and use the accelerometer to unleash their urban driving skills.
James Noir's Hollywood Crimes: A brand new intellectual property developed exclusively for the Nintendo 3DS, James Noir's Hollywood Crimes makes the player the main character in a mind-twisting puzzle adventure taking place in an interactive 3D world, with 150 puzzles and mind games to solve.
Rabbids Travel in Time: Rabbids are bwaaaaaack and this time they have an infallible plan to invade the human world: conquer history in their first platform adventure developed exclusively for the Nintendo 3DS.
Rayman 3D: One of the most popular franchises of all time lands on Nintendo 3DS with an outstanding platform experience that will take advantage of the Nintendo 3DS specifications with impressive graphics, stunning 3D effects and full use of the Circle Pad. An adaptation of the acclaimed Rayman 2 original game on Dreamcast, Rayman 3D will feature major updates on key game play elements such as accessibility, progression and learning curve.
Tom Clancy's Ghost Recon: Shadow Wars: The first tactical, turn-based Ghost Recon game, featuring eye-popping 3D cut scenes and in-game effects, deep team management options and a 1vs1 multiplayer mode on the same console.
Tom Clancy's Splinter Cell 3D: Sam Fisher is back in this masterpiece of the stealth/action genre, mixing the tension and realism that makes the essence of the franchise with unprecedented immersion and accessibility thanks to the stereoscopic 3D and innovative controls of the Nintendo 3DS.