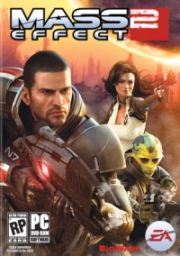 BioWare's Mass Effect 2 walked away with Game of the Year honors at the Interactive Achievement Awards last night.
The game, which was just recently released on the PS3 after its PC and Xbox 360 debut last year, was given the award by the Academy of Interactive Arts & Sciences. This is the Academy's 14th year handing out the IAAs and Mass Effect 2 beat out Call of Duty: Black Ops, God of War III, Red Dead Redemption and Angry Birds to win the prize.
But among the honorees, only Black Ops went home empty-handed. Angry Birds was named Casual Game of the Year, God of War III won Outstanding Achievement in Animation and Red Dead Redemption galloped away with five awards.
You can watch the entire ceremony at G4tv.com/DICE2011 or you can see the full list of winners after the break.
Game of the Year: Mass Effect 2
Outstanding Achievement in Game Direction: Red Dead Redemption
Casual Game of the Year: Angry Birds
Portable Game of the Year: God of War: Ghost of Sparta
Fighting Game of the Year: Super Street Fighter IV
Role-Playing/Massively Multiplayer Game of the Year: Mass Effect 2
Sports Game of the Year: FIFA Soccer 11
Racing Game of the Year: Need For Speed: Hot Pursuit
Adventure Game of the Year: Limbo
Social Networking Game of the Year: CityVille
Strategy/Simulation Game of the Year: StarCraft II: Wings of Liberty
Action Game of the Year: Red Dead Redemption
Family Game of the Year: Dance Central
Outstanding Innovation in Gaming: Heavy Rain
Outstanding Achievement in Animation: God of War III
Outstanding Achievement in Visual Engineering: Heavy Rain
Outstanding Achievement in Art Direction: Red Dead Redemption
Outstanding Achievement in Story: Mass Effect 2
Outstanding Character Performance: Red Dead Redemption – John Marston (Rob Wiethoff)
Outstanding Achievement in Soundtrack: Rock Band 3
Outstanding Achievement in Sound Design: Limbo
Outstanding Achievement in Online Game Play: StarCraft II: Wings of Liberty
Outstanding Achievement in Original Music Composition: Heavy Rain
Outstanding Achievement in Game Play Engineering: Red Dead Redemption