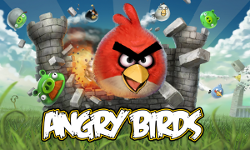 A series of tweets on Rovio's Twitter account have revealed that the publisher is bringing all three versions of Angry Birds to the 3DS this year.
The games (Angry Birds, Angry Birds Seasons, Angry Birds Rio) will be downloadable through the 3DS' eShop (which doesn't come online until May). It's unknown if they'll be bundled together, or sold separately as individual games. This news comes one day after Nintendo of America president Reggie Fils-Aime slammed $1 mobile games, though he referred to Angry Birds as "a great piece of experience."
Hit the break for all the non-angry Rovio tweets that confirm this news.
Angry_Alex_bird: I bought it! :) I like it and its funny! Great work. And will there come a Nintendo ds/wii version of this game?

Rovio: Thanks! Wii and 3DS later in the year.

3DSFocus: Will Angry Birds on the 3DS be a full release or a 3DSiWare download?

Rovio: we prefer downloads and digital distribution on all platforms, it's green like the pigs ;-)

3DSFocus: Thank you for your reply! One more question… is it going to be a new title like Rio, or a re-release? :)

Rovio: we would bring all 3 current Angry Birds games over…