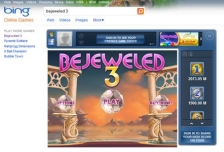 Remember how awesome it was when Google transformed their logo into a playable version of Pac-Man to celebrate the dot-muncher's 30th anniversary? Well, Microsoft and the UK arm of their Bing search engine have gone one better. Actually, they've gone 45 better as they've added 46 playable casual games to Bing's search results (casual games have been available on Bing US since last year). I'm not sure if it'll break Google's ironclad grip on the search engine market, but I know I'll be using Bing a little more often (up from never) from now on.
Players (searchers?) will also be able to log in to the games using Facebook or Windows Live, letting them share and compete against their friends' best scores.
The full list of playable games on Bing can be found after the break.