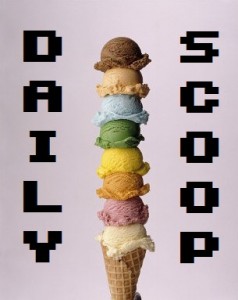 Just a quick note before I talk about Valentine's Day: today's Amazon Deal of the Day in video games is Lego Star Wars: The Complete Saga. It's $14.99 down from $19.99 for the Wii, Xbox 360, PlayStation 3, and Nintendo DS. That's a lot of Star Wars!
And now for what you really wanted to hear about! Valentine's Day is nearly upon us. If you're shopping for that special geek, Thinkgeek's got you covered. I'm currently kind of smitten by the 8-Bit Flower Bouquet, and I love the Circuit Sweetheart Necklace. For the more intimate gift, I would definitely recommend getting your girl some Geek Panties or, if she's into web design, the HTTPanties would be a sure hit. And if all else fails, telling your geek you love them with an "I <3 my Geek" t-shirt is a safe bet (and you can get it for men or women). And what's more, you can get $10 off orders of $40 or more by using the code "PLAYER2." D'aww!
Penny Arcade is also having a sale, albeit a small one. Their two shirts with hearts on them are on sale for $14 (see what they did there?) – the Heartris and Life tees.
Looking for something a little more unique? The geeks over at The Daily What featured an amazing Valentines For Nerd Love Of The Day with some awesome 8-bit cards for sale at Paper Rock Scisorz' Etsy Page. This one is totally my favorite:
<3