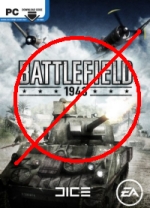 Karl Magnus Troedsson, the General Manager at DICE, has used the Battlefield Blog to announce what we've all suspected for a while now: the PC version of Battlefield 1943 is dead. The developer has finally cancelled the oft-delayed shooter along with the PC version of the "Onslaught" add-on for Battlefield: Bad Company 2.
Battlefield 1943 was initially released on the PlayStation Network and Xbox Live Arcade in July of 2009.
Troedsson cited the company's desire to move forward as the reason for the cancellation, specifically moving on to Battlefield 3:
We know some of you eagerly have been awaiting Battlefield 1943 and Battlefield: Bad Company 2 Onslaught on PC. I'm sad to say that these two titles are now officially cancelled. Instead, our talented teams will focus on delivering the greatest possible gaming experience in our next behemoth release. We're confident this will lead to an even better experience in Battlefield 3, not only on PC, but on all platforms.