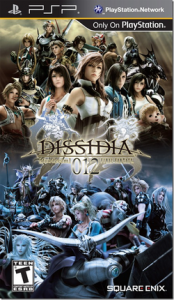 The pre-order bonuses for Tetsuya Nomura's latest assault on logical game titles, Dissidia 012: Final Fantasy, have been detailed, and offer new costumes for two of the series' most beloved characters.
Fans of Kingdom Hearts will be pleased to know that Cloud's darker iteration in the Final Fantasy/Disney cross-over will be available via download code when you pre-order the game from GameStop. Amazon junkies will be able to unlock an "enforcer" costume for Tifa Lockheart from Final Fantasy VII, based on illustration's by the beloved series character designer Yoshitaka Amano. As Nomura designed the characters for FFVII, not Amano, the costume is somewhat of a cool "what if" for more die hard connoisseurs.
Dissidia 012: Final Fantasy will be available on March 22 for the PSP. No news if Square's recent attention to the PSN will lead to a digital release, but the last Dissidia was available on the PlayStation Store.