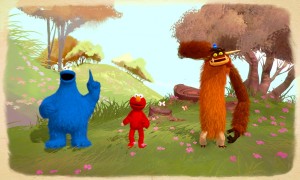 This sounds like a match made in heaven. Warner Bros. Interactive Entertainment announced today that Tim Schafer's Double Fine Productions will be bringing Elmo, Cookie Monster, and your favorite childhood characters to Xbox 360 Kinect with Sesame Street: Once Upon a Monster. Children and Parents join Sesame Street characters as they enter the world of the story book, Once Upon a Monster, making new friends along the way and learning life lessons to solve problems in the game.
Tim Schafer said, "Sesame Street had a profound effect on me, and many members of the Double Fine team, when we were children. So did video games. Now many of us are parents and we want to share with our kids the great experiences we had, but also the completely new ones made possible by cutting-edge technology like Kinect for Xbox 360. So it's a labor of love on many levels."
I'll admit it – I seriously envy the kids who get to interact with such awesome concepts in new and innovative ways. Sesame Street: Once Upon a Monster is set for a Fall 2011 release date, and hopefully a tear jerking presentation at E3.