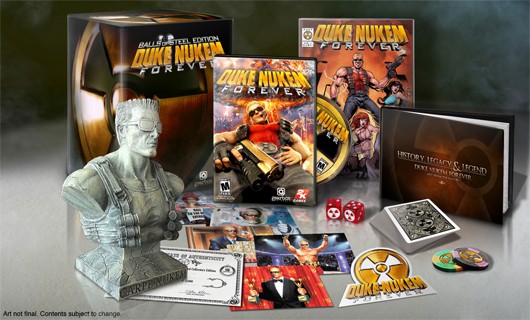 The most important game in the world deserves an equally important collectior's edition. Thankfully, it looks like 2K Games plans to come through for Duke Nukem Forever with the "Balls of Steel Edition." The $99.99 package (available exclusively at GameStop and Amazon) doesn't have an actual pair of steel balls in it, but it does include a ton of other neat stuff:
Collectible bust of the greatest alien ass-kicker of all-time
Numbered, limited-edition certificate of authenticity
100-page hardcover book:
The History, Legacy & Legend: Duke Nukem Forever Art from the Vault
DNF postcard series
DNF radioactive emblem sticker
DNF collectable comic book
DNF foldable paper craft
DNF poker chips
DNF mini-card deck
DNF radioactive emblem dice
It also includes a copy of the game for the platform of your choice (PC, PS3 or Xbox 360). Or maybe Gearbox has been screwing with us this entire time and there is no game. We are talking about Duke Nukem Forever after all.
Providing they're telling the truth, Duke Nukem Forever and his Balls of Steel will be available on May 3.