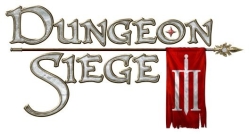 The Obsidian Entertainment-developed Dungeon Siege III has been given a release date by Square Enix. The action RPG series will make its way to the PS3 and Xbox 360 for the first time (along with a version for the PC) on May 31st.
To celebrate the release of Dungeon Siege III, Square Enix has partnered with leading game retailers to offer a ton of unique bonuses for gamers who pre-order.
Hit the break for a complete rundown of all the pre-order plunder.
Steam will be offering up the coolest pre-order bonus as players who pre-purchase Dungeon Siege III will get three games for the price of one. Valve plans to give away single-player versions of both Dungeon Siege and Dungeon Siege II as free downloads.
Walmart is the only retailer to offer a real world bonus by bundling a Dungeon Siege mini-comic from Dark Horse Comics and a mini-strategy guide from Prima Games with every pre-order.
All of the other pre-order bonuses involve some kind of free in-game item. They include…
GameStop
Burning Band of Scorch – This exclusive pre-order in-game ring increases the raw damage of a player's attacks and sets all foes ablaze with any weapon.
Talisman of the Grand Mage – This exclusive pre-order in-game necklace reduces incoming damage on the player and grants the ability to lash out with a mystical attack that injures enemies in close-range combat.
Amazon
Bite of the Arakun – Grants the player the ability to poison enemies with lingering injury or soften their defenses, leaving them vulnerable for follow-up attacks.
Best Buy
Sacred Heart of the Legion – Increases a player's health and pushes close combat assailants back each time the bearer is struck in battle.