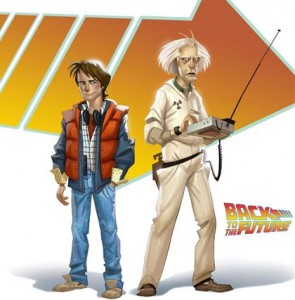 This week should be pretty special for many different types of gamers on the PSN, especially fans of Telltale Games. Most notable on the PlayStation Store update this week is Back to the Future: The Game, featuring Christopher Lloyd himself as Doc and the best Michael J. Fox impersonation ever. I've heard nothing but good things about this game so you couldn't go wrong with a $19.99 subscription. Also from the folks behind Monkey Island comes four new Sam & Max episodes exclusive to the PSN, for $8.99 a piece.
Acceleration of SUGURI X-Edition and ATV Pure round out the new games list with insane robot combat and quad racing, respectively.
There's also a few notable entries outside of new games. The demo for the much-anticipated Yakuza 4 is available for PlayStation Plus subscribers, and the Killzone 3 single player demo is available in 3D and normal for all PSN gamers. Definitely check that one out if you haven't already.
Most importantly for me, as you may tell from our podcasts, is Tactics Ogre: Let Us Cling Together. You read that right, Square Enix has released a PSP game on the PSN. No one expected this to land digitally, but Senior Editor Nicole Kline speculated that because the NGP will for the most part use digital media, Square may finally have to get their act together. In any case, be sure to take a look at this masterpiece, as well as more information on the new games on the Store after the break (details on all of this week's add-ons can be found at the PlayStation.Blog).
Downloadable PS3 Games
Acceleration of SUGURI X-Edition ($5.99)
Acceleration of SUGURI X Edition, the ultimate in anime-style, robot fighting-action is here! Leap into beautifully rendered battle environments, wield innovative, pulse-pounding weaponry, survive 11 levels of captivating doujin gameplay and crank up the volume on the techno-trance soundtrack. Battle the CPU or challenge a friend. Three different Arcade and Versus modes, local and online leaderboards, replay videos and 14 PSN trophies to enjoy
ESRB Rated E10+
File size:338 MB
ATV Pure ($19.99)
Throttle up your quad bike, check your fear at the starting line & compete against fifteen rival riders in over 30 unique off-road trick-racing events. Build your quad bike from the ground up & leap off snow-capped Italian mountains; jump gaping chasms in New Mexico or ride the rim of active volcanoes. Experience super speed, catch massive air & nail spectacular airborne tricks. Welcome to off-road trick racing. Welcome to Pure.
ESRB Rated E
File size: 4.58 GB
Back To The Future: The Game – Episode 1 – Free With Season Pass (Free)
ESRB Rated T
File size: 217 MB
Back To The Future: The Game – Full Series ($19.99)
Marty McFly & Doc Brown return in a brand new Back to the Future adventure!
Six months after the events of the third film, the DeLorean Time Machine mysteriously returns to Hill Valley – driverless! Travel through time as you meet up with McFlys, Tannens and Browns through the ages to right wrongs, amend timelines, and prevent terrible terrible mistakes. Five episodes, releasing monthly!
ESRB Rated T
File size: 217 MB
Sam And Max Episode 2: The Tomb Of Sammun-Mak (PSN Exclusive) ($8.99)
ESRB Rated T
File size: 482 MB
Sam And Max Episode 3: They Stole Max'S Brain (PSN Exclusive) ($8.99)
ESRB Rated E10+
File size: 411 MB
Sam And Max Episode 4: Beyond The Alley Of The Dolls (PSN Exclusive) ($8.99)
ESRB Rated E10+
File size: 376 MB
Sam And Max Episode 5: The City That Dares Not Sleep (PSN Exclusive) ($8.99)
ESRB Rated E10+
File size: 365 MB