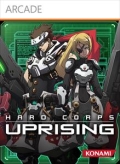 Microsoft has kicked off their 2011 Xbox Live Arcade House Party promotion in an explosive way as Hard Corps: Uprising is now available to download.
Priced at 1200 Microsoft Points ($15), the game is a prequel to the Contra saga as a whole and to 1994's Contra: Hard Corps in particular. Developed by Arc System Works, the game also brings an anime-inspired flavor to Contra's signature run-and-gun routines for the first time.
In addition to the main game, Konami has made two bonus characters for Hard Corps: Uprising available to download (priced at 200 MS Points each) along with a whole closet full of Avatar items.
Check back later today for our review of Hard Corps: Uprising.