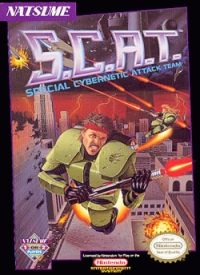 As a young kid in the 80s, I knew even then that S.C.A.T. was an… odd… name for a game. Thankfully, the NES game didn't involve bodily waste and instead was a shooter in the Contra mold. Anyway, this is all just to say that S.C.A.T. (which stood for Special Cybernetic Attack Team) is available on the Virtual Console this week.
Spot the Differences!, a picture comparing game, is the lone WiiWare original this week. Although demo versions of Lit and Urbanix will be available to download from the Wii Shop Channel as well.
The DSiWare Shop will receive a quartet of new games this week: G.G Series: Dark Spirits, a side-scrolling shooter; Boom Boom Squaries, a puzzle game; 505 Tangram, another puzzle game; and Shawn Johnson Gymnastics, a gymnastics simulator.
More information on all of these titles can be found after the break.
WiiWare
Spot the Differences!
Publisher: Sanuk Games
Players: 1-4
ESRB Rating: E (Everyone)
Price: 500 Wii Points
Enjoy the ultimate spot-the-difference game for the WiiWare service with 160 scenes, three levels of difficulty and 1,600 differences to spot. Play either solo or with friends to find out who's the best spotter. Browse odd and attractive scenes in various categories: Landscapes, Pets, Playtime and Yummy. Four game modes are available. In Arcade mode, spot five differences in randomly ordered scenes. In Time Attack mode, spot one difference in each scene for as long as the timer runs. In Select Scenes mode, play with the scenes of your choice and find five differences in each one. In Multiplayer, up to four players can play against each other.
Virtual Console
S.C.A.T.
Original Platform: NES
Publisher: Natsume
Players: 1-2
ESRB Rating: E (Everyone) – Fantasy Violence
Price: 500 Wii Points
It's the year 2029 and humanity faces certain extinction. An alien force led by the Supreme Commander Vile Malmort is positioned to destroy the Earth. With little time to act, the president assembled the greatest scientists from around the globe to stop this menace. From their laboratory came mankind's last hope: the members of the Special Cybernetic Attack Team. S.C.A.T. has one goal: complete destruction of the alien fleet. Capture and adapt multiple weapons systems. Enjoy single-player mode or two-player cooperative play.
Nintendo DSiWare
G.G Series: Dark Spirits
Publisher: Genterprise Inc.
Players: 1
ESRB Rating: E (Everyone) – Mild Fantasy Violence
Price: 200 Nintendo DSi Points
In this side-scrolling shooter, it's up to you to destroy the enemy by making use of the four familiars that fly in formation around your vessel. Quickly switch the formation pattern of your familiars with the touch of a button. When you destroy an enemy, its soul becomes available to collect. Collect the soul with one of your familiars to upgrade its attack or switch to a different attack type. The familiar's attack can be upgraded by collecting multiple souls of the same color in a row. The four familiars power up and change independently of each other, adding an element of strategy as you plan how to use each one effectively.
Boom Boom Squaries
Publisher: Gamelion
Players: 1
ESRB Rating: E (Everyone) – Comic Mischief
Price: 200 Nintendo DSi Points
Furries are cute, happy, round beings that enjoy rolling around in the sun all day long. But the bad-tempered, stone-cold Squaries, who hate everything that is round and fluffy, attack the unsuspecting Furries. Now it's up to you to create chain reactions that will pop the evil invaders. Prove your skill in four different game modes: Classic, Challenge, Time Trial and Endless. Use Squaries' special abilities such as gravity, air blast and split to plan your blasts for maximum efficiency. When you are done with 40 levels of Classic mode and 40 Challenges, you can enjoy the never-ending fun of Endless mode and beat your high score in Time Trial.
505 Tangram
Publisher: cosmigo
Players: 1
ESRB Rating: E (Everyone)
Price: 500 Nintendo DSi Points
Solve 505 tangram puzzles from different groups and become a Tangram Master. Numerous challenges await you. Tangram is the puzzle game for purists. Assemble seven pieces of a puzzle correctly to create a preset shape. Animals, humans or objects – can you complete them all? Statistics are available for players who love to track their wins. Save the game status at any time and continue later. The game's style and interface have been designed for easy, intuitive operation with the stylus or the + Control Pad.
Shawn Johnson Gymnastics
Publisher: Zoo Games
Players: 1
ESRB Rating: E (Everyone)
Price: 500 Nintendo DSi Points
Go for the gold with Shawn Johnson as you compete in the world of competitive gymnastics. Stick your landings on vaults and nail your combinations on the beam to impress the judges. Start as an amateur and work your way up, earning awards on your way to the World Championships. Train diligently during practice and you'll be ready for competition in no time. Earn your way through bronze, silver and gold medals as you evolve into an all-around star in the world of gymnastics. Perfect your routines and score high marks to earn a place on the podium – and in the hearts of your fans.