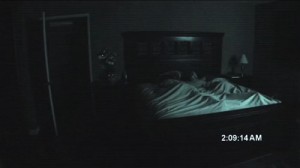 Augmented Reality's Ogmento Inc. announced Paranormal Activity: Sanctuary for iPhone, which is a location-based "reality game." Players can use their surrounding environments – namely public locations – to enhance the thrill of the game, which urges players to keep demons at bay by announcing their presence at any given location through the app.
Ogmento's co-founder Brian Selzer says: "The Paranormal Activity franchise embodies the powerful psychological space between what's real and what's imagined; we wanted to encapsulate that feeling in an iPhone game and use augmented reality to accentuate the overall game experience in a way that has never been done before."
Now I'm scared. No, not because of how scary Paranormal Activity was, moreso because the Paranormal Activity movies just weren't good movies (in my opinion). And now a game? Well, alright. I shouldn't judge it just yet. I always thought that the integration of real-life locations into "swarm-type" games were cool. Give Paranormal Activity: Sanctuary a shot, even if only because it's a free app.