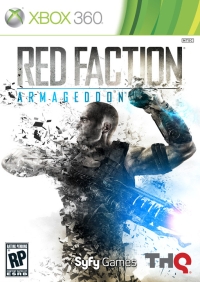 Because references to Total Recall never go out of style. Anyway…
THQ has announced that the latest entry in their Mars-based shooter series, Red Faction: Armageddon, will be released for the PC, PS3 and Xbox 360 on May 31.
Developed by Volition, Armageddon is set 25 years after the events of Red Faction: Guerrilla. Starring Darius Mason, the son of Guerrilla's Alec Mason, the game digs deep into the heart of Mars to reawaken the ancient Martians. And unlike the benevolent ancient Martians of Total Recall, these space aliens are pissed.
Gamers will get a second helping of Red Faction this May when Syfy airs the tie-in movie Red Faction: Origins. The film, which stars Robert Patrick, is meant to bridge the 25-year gap between Guerrilla and Armageddon.