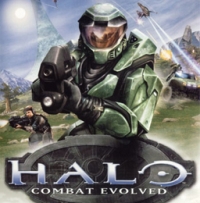 In an act of miraculous prescience, Joystiq is claiming to have learned that some kind of "sort of full remake, but not really" is underway for Halo: Combat Evolved. To commemorate the tenth anniversary of the franchise, New Jersey native (woo!) and developer of TimeShift (boo!) Saber Interactive is executing the project. Features claimed to be hashed out include 1080p, 3D television support, more modern control configurations, and the series' trademark online co-op. The unannounced remake even supposedly has an unannounced release date: November 15, 2011.
The game will be more than just an HD upgrade, with all new art assets but created with an different engine from the one used in Halo: Reach. The audio is expected to remain unaltered, and I have no idea why.
It's good to see Microsoft finally getting on the HD-remake bandwagon, and there's certainly no better time to do it for their flagship franchise than its 10th anniversary. Still, this is essentially the fourth Halo game in a span of three years.