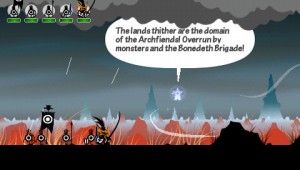 Just pretend for a second that you've had enough of the war drums, armies of little doodle-y heroes, and rhythmic button combinations. Okay, now think logically, because there is no such thing as 'enough.' Sony knows this, and acknowledges the success of the last two Patapon games with Patapon 3, due out on PSP UMD and PSN April 12th.
Players will take form of the "Uberhero Patapon," a symbiosis between your character – The Mighty One – and a fallen Patapon soldier. Though the game promises to be quite similar to the last two Patapon adventures, Patapon 3's development team strived to incorporate feedback received from the players of Patapon 3's beta.
Personally, I can't wait to push Square, Square, Square, Circle, and get a move on with my Uberhero Patapon!