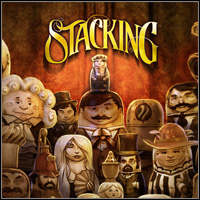 Microsoft is gearing up for their second annual Xbox Live Arcade House Party promotion, but they still added a pair of new games to the XBLA today.
Stacking, a puzzle platformer starring a bunch of Russian stacking dolls from Tim Schafer's Double Fine Productions is definitely the highlight of the day. It's been prriced at 1200 Microsoft Points ($15).
Next up is a racing game known as TNT Racers, except the TNT stands for "Tracks N Tricks." It's been priced at 800 Microsoft Points ($10).
More information on both of these titles can be found after the break.
Stacking
Price: 1200 Microsoft Points
From Tim Schafer's Double Fine Productions, explore a vintage world inhabited by living Russian stacking dolls as you jump into more than 100 unique dolls and use their special abilities to solve a wide variety of puzzles & challenges. Play as Charlie Blackmore, the world's tiniest Russian stacking doll, and embark on an adventure to rescue Charlie's family from the nefarious industrialist known only as the "Baron." This imaginative 3rd person puzzle adventure game will take you on a journey from a bustling Royal Train Station to a high-flying Zeppelin as you collect unique dolls and matched stacking sets to display in Charlie's secret hideout, where you chronicle your adventures.
TNT Racers
Price: 800 Microsoft Points
Have you got what it takes to outrun your rivals? TNT Racers is a fun multiplayer racing game full of variety, combining fast as lightning race action with brand new features. The Shadow Race feature lets every player stay in the race even if a driver is clearly in an inferior position. But the best things are the wicked pick-ups which will ultimately decide about victory or defeat. TNT – Tracks N Tricks – cool tracks and snappy gadgets! One powerful adrenaline kick is guaranteed.