As a technology-based hobby, it's not surprising that video game magazines have faded into the shadows of the umpteen billions of gaming-related websites. What might be surprising is despite the move towards online publications, game magazines – once the only way die-hard gamers could get information, reviews, and run-downs of everything that happened at the important trade shows – have reinvented themselves in the 21st century to complement the 24 hour news cycle that runs in your web browser. You might think that print magazines are dead, or at least on life-support… but believe it or not, they might be at a higher quality than they were during the peak of the medium. Shall we take a tour?
Multiplatform Publications
Exactly one year ago, there were just two magazines dedicated to all formats on American store shelves; this year, there are five. Sure, it seems like a small number, but in truth this is as healthy as the multiplatform magazine business has been since the days of the original PlayStation. More importantly, each publication has its own unique slant, be it a super-hardcore approach to niche and downloadable games, an endless parade of exclusive reveals, or the complete removal of "time-sensitive" articles – like, you know, game reviews. Rather than directly compete with Internet-based sites that will always win when it comes to timely information, each magazine stands out as unique reading for those who aren't always sitting in front of our computer monitors.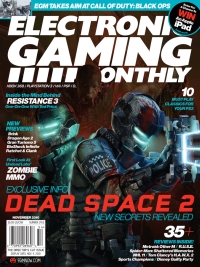 Electronic Gaming Monthly | egmnow.com
One of the best stories of late 2009/early 2010 was the announcement that Steve Harris, the founder and original editor-in-chief of Electronic Gaming Monthly, had reacquired the brand from what was left of the Ziff-Davis fire sale. The demise of EGM was expected to be the bellwether for the demise of gaming mags, but instead it became the beacon of hope that gaming magazines could still be relevant in the modern era. Instead of returning to its original formula of a straight-up gaming magazine, EGM is the only publication to really embrace the web as a complement to their printed words. Not only does a subscription get you issues in your mailbox, it also allows access to EGMi, where you can read exclusive articles and sneak previews of articles that will later appear in the magazine. The interface is extremely slick and actually reads like a magazine, and not just another webpage.
The magazine itself is extremely well organized and keeps most of the old EGM staples, aside from the lack of the four-person reviews from the glory days. If there was anything to really rag on the magazine about, it's the extremely volatile turnover in staff. So far the mag has already gone through one editor-in-chief, with no replacement as of the most recent issue. The staff is a revolving door of freelancers and one-and-done staffers, which tends to make each issue unpredictable and doesn't really give it a consistent voice. On the other hand, the mag has carved a niche thanks to its lengthy and interesting interviews with big names like Tim Schafer, Todd Howard, and Randy Pitchford just to name a few – it's a great place to get some perspective from these creative minds. As the magazine moves into its first full year, things are looking good, but someone needs to steady the ship to let the magazine find its true voice.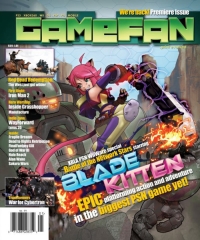 GameFan | gamefanmag.com
When Play ultimately shut down in early 2010, it might have appeared that the infamous Dave Halverson had finally reached the finish line of his career of uber-niche game magazines. However, instead of admitting print was nigh-extinct and moving towards an online venture, he brought back one of the most beloved (and polarizing) game magazines ever – GameFan. Granted, this isn't your daddy's GameFan, considering there's nobody other than Dave from the old days of the magazine. The choice bring back the name that made him famous might seem a bit arrogant, but after five issues – released at random times while the company tries to get on a monthly schedule – GameFan is a weird return to the days when you could get away with a magazine that almost literally screams at you every time you turn the page.
Aside from the seizure-inducing page layouts that are inventive and colorful, the content itself continues the tradition of Play with less focus on modern mainstream hits and more attention towards the little guys, be it struggling Japanese publishers, niche western games, or interesting downloadable titles. The latter is especially unique – through five issues, GameFan has given two covers to download-only games – Blade Kitten appeared on issue number one, and DeathSpank graced the cover a couple issues later. There must be some kind of irony that a print magazine is giving better attention to download games than most websites, but that's what's been happening. However, getting into a Halverson magazine means accepting all its oddball quirks – frequently poor editing, bizarre rants that sometimes have nothing to do with the subject (even when they do manage to stay on topic, they frequently are framed like the rantings and ravings of a typical 14-year-old on GameFAQs), and a lot of very high scores for a lot of games. At the very least, GameFan reminds us that games and gaming are supposed to be fun diversions from reality, not something to waste hours at a time nitpicking over.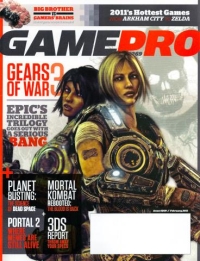 GamePro | gamepro.com
Thanks to EGM's roughly 12-month hiatus, GamePro ranks as the longest-running video game publication in the United States. However, the GamePro of 2011 is a vastly different beast than the one you might recall. Instead, thanks to the efforts of game magazine veteran John Davison, GamePro has transformed into an extremely intelligent and competent source for real live game journalism. Davison has moved on to CNET/GameSpot in recent times, but the magazine he's left behind is just as sharply written and full of interesting articles. Not only that, but the mag has done something nobody else ever had the rocks to do – cut reviews from the print side of the company, instead posting them exclusively online. The replacement for the reviews is fascinating – it's like someone took Metacritic, put it on paper, and then wrote 1000 words on what everyone else said about the game. It makes GamePro something of an aggregate magazine – a unique choice that makes up for the reality that publishing lead times just don't let mags pump out reviews in a timely fashion.
Without a focus on reviewing games, GamePro has to fill space with other things… which they do well. There's still previews of new games, but usually they're done in a theme, whether its by genre, platform, etc. Still, it's the feature articles that make the magazine thrive. For instance, the current issue features a large retrospective on World of Warcraft, describing in detail the history of the game, the reason for its success, and what the future might hold. It's an interesting, well-written piece that was even worth reading for those who have never played and never care to play the game. The transformation from a "tween" game magazine to a mature, thoughtful publication was fast and furious, but GamePro has established itself as a go-to source for grown-up gamers looking for something that goes beyond the standard preview/review cycle of the more traditional choices.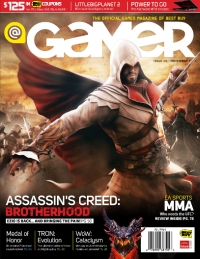 @Gamer | atgamermagazine.com
@Gamer is the newest entry in the multiplatform magazine competition – and one that is strongly positioned to do well in the long run. A collaboration between Best Buy and Future, the mag is only available at Best Buy stores or via subscription. Though only ten issues a year are printed (the mag goes bi-monthly during the quieter times), @Gamer has a legitimate hook – coupons! Every issue features a sheet of coupons, making the mag almost pay for itself if you use a few of them during the course of a subscription. This isn't the first time Best Buy has done this – you might recall BB-branded issues of GamePro that featured similar deals – but because they're so heavily involved in @Gamer, it seems like they've really gone all-out to make it worth checking each and every time a new issue releases.
That's not to say that @Gamer is a glorified catalog or anything – it's quite the contrary. Thanks to a collection of well-respected video game writers, the magazine manages to be a good read without being too "easy" on games. They're pretty rough on almost everything – I've seen few perfect scores – and their reviews usually have a "second take" so another opinion can get some attention. In general, the mag focuses on reviews – as an in-store magazine they likely want people to read them and then go buy something – but the previews they do are informative as well. Gotta move those empty pre-order boxes in the store, after all. In most ways they're like Game Informer, just without the never-ending array of world exclusive cover stories. I suppose that might come to pass if @Gamer takes off, however. For now, if you're a frequent Best Buy shopper, the coupons themselves makes the subscription worth it… but the content inside isn't too shabby.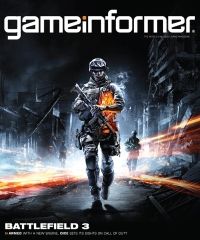 Game Informer | gameinformer.com
Game Informer is the big kahuna of multiformat magazines. What started as a tiny newsletter for Funcoland has become something so huge that it's in the top five in circulation of all magazines in America. Of course, the affiliation with GameStop is a large reason why, but GI has managed to transform from a generic run-of-the-mill magazine (as it was in the mid-90s) and become a leader for quality information, reviews, and of course, the seemingly endless progression of exclusive cover stories. Though Game Informer has a battered reputation in some circles simply because of their GameStop connection, it's used the influx of attention to craft a solid magazine month after month.
While the reviews and previews are serviceable, it's the focus on new games and interesting industry analysis that makes it worth reading. Yes, many of their feature articles are for games that might be a year or so away, which results in stories that are less about facts and more about speculation & developers "embellishing" their concepts, but new games are the lifeblood of gamers and thus even the tiniest bit of info is enough to get our attention. While GI isn't as "mature" as GamePro, it harkens back to the EGM of the early 2000s – a solid combination of "gamer" stories alongside good writing and attention to the future. The partnership with GameStop means it'll be a viable publication for years to come, and though it probably won't ever shake the reputation of being a catalog for the store, smart gamers know Game Informer delivers consistently enjoyable reading every thirty days.
Single-Format Publications
Magazines dedicated to a single platform or hardware manufacturer have never been as prestigious as the EGMs of the world, but for fans of a specific platform, they tend to have the most in-depth coverage compared to multiplatform publications, which have to cover everything. In 2011 there are only three single-format magazines – all of them officially licensed. With the magazine business floundering as it is, anything else is a death wish – you need the backing of the platform holders to get anywhere. Maybe someday we'll see the return of the unofficial single-format magazine, but for now, this is what we've got.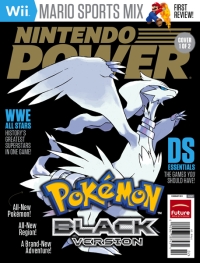 Nintendo Power | nintendopower.com
Though it's no longer owned and operated by Nintendo of America, Nintendo Power is still the only printed source for Nintendo information. It's also the oldest single-format publication out there, with almost twenty-five years of content. Even better, the magazine has greatly improved with age. While the earliest days of NP were mostly about strategies, cheats, tips, and the like, the current form of the magazine is much more traditional, offering tons of previews, reviews, and feature articles. Being the official Nintendo mouthpiece also offers exclusive looks at many games, and is usually the insider source for information on upcoming systems and revisions. In many ways Nintendo Power has bucked the Internet trend by keeping the magazine relevant, as their top information tends to find its way to print first. It's all so old-timey.
When Nintendo sold off the magazine to Future, it restocked the staff with veteran writers and during this time the mag has become less of a "rah rah, Nintendo!" horn and more of a "hey, we cover Nintendo stuff, cool!" publication. Because of this, NP has become a legit source of quality scoops, and the editorial team uses the insider information provided to craft some interesting articles about future games for Nintendo platforms. Its design is still a little busy and immature at times, but that comes from being a lightly altered take on the final design from the days when Nintendo ran things. Otherwise, the modern Nintendo Power is far from the cheesy, childish days of the mid-1990s, and as the company has risen up in stature, so has this long-running magazine.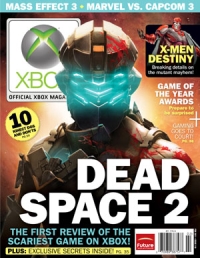 Official Xbox Magazine | oxmonline.com
Official Xbox Magazine has run – uninterrupted – since the first day the original Xbox was on shelves. Back in those days, OXM was a magazine more known for its demo disc than a source for anything other than heavily pro-Xbox copy (their outright dismissal of PS2 was a serious case of foot-in-mouth disease). Back then, though, the magazine could accomplish this, what with the extremely great Xbox Nation still around at the time (imagine me pouring one out for XBN right now). These days, it's almost the complete opposite. As demo discs are becoming outdated relics, the magazine part of OXM has improved, and though it's not perfect, it does well as a solid source for Xbox 360 info – without all the rah rah rah garbage.
What makes OXM stand out amongst the usual previews, reviews, and the like are the oddly inventive feature articles that appear almost every month. Whether it's sending editors and interns out to see how many Xbox games they can buy with a set amount of cash, or a guide explaining how to not play with your brand new Kinect, you can count on some oddball articles in almost every issue. They even spent an issue showing off the best Indie games out there, a welcome touch given nobody else seems to care much about Indie games on Xbox Live. It's obviously not worth spending $10 a month to read, but the sense of humor really works. Even the demo disc can be worth holding on to – though the demos are usually outdated, they occasionally come with exclusive themes and gamerpics, and every disc has an archive of every single Xbox 360/Xbox Live arcade review they've ever written, with all text included.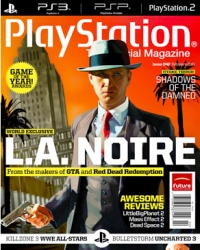 PlayStation: The Official Magazine | playstationthemagazine.com
Long time PlayStation fans certainly remember PSM, which started in 1997 and lasted until 2007. For almost ten years it directly competed with the Official US PlayStation Magazine, until OPM was shuttered in 2006 (again, let's pour one out for OPM). Yet not even a year after OPM was closed, Sony and Future worked out a deal that transformed PSM into the newest Official PS Magazine, just titled PlayStation: The Official Magazine. Yes, it's difficult to keep all these names straight. Anyway, P:TOM has moved into its fourth full year in 2011, and over these years, its transitioned quite well. Though it lacks any kind of demo discs (Blu-ray is still expensive after all, though having an OXM-like archive would be superb), the magazine covers the "PlayStation Family" fairly well.
In most respects, P:TOM is a mirror image of OXM – right down to the oddball feature articles to fill up the page counts. Truthfully, one could buy one of the two magazines every month and get their fix of information, at least when it comes to multiplatform games. After all, the Call of Duty Black Ops info in one is likely going to work regardless of what system they're playing it on. The only real difference is tone, as both platforms tend to have a unique audience despite the similarities in available software. While it doesn't quite have the charm and humor of the old PSM, P:TOM is still a good source for PS3, PSP, and PSN gaming. Die-hard fans could do worse than buy an issue every once in a while.
What The Future May Hold
Despite the renaissance of video game magazines here in 2011, they tend to hang from a perilous perch. Why? Advertising. In the inaugural issue of the new GameFan, Dave Halverson lamented that print advertising vanished almost overnight, leaving Play in the dust and resulting in its closure. Thumb through almost every magazine now, and you'll find a shocking lack of ads. While this might sound great from a reading perspective, it's terrifying from an economical standpoint. Most magazines have countered this by charging more per issue – EGM is $7 on the stands – but with the outdated "sell cheap subscriptions, because subscription numbers equal mega advertising dollars" model still in full force, it might lead to more premature closures.
For these magazines to continue doing business, something has to change. EGM has the right idea with their online ventures, and publications like @Gamer and Game Informer will likely get by simply because of their connections to powerful retail chains. But what about the rest? How long until the new GameFan falls apart because nobody wants to create ads for their magazine? As of February of 2011, GameFan doesn't even sell subscriptions, which might end up balancing out the advertising woes, but a publication without a subscription package won't get anywhere. Perhaps it's time to stop the $20 for a year deals and start on a new path, mimicking the European subscription model. Over there, you can't get a year of Edge for the equivalent of $20 – instead, you pay at least three times that for the convenience of getting it directly in your mailbox. While cheap subscriptions is great for consumers, the days of using huge subscription numbers to woo advertisers is long gone.
In terms of quality, game magazines are as good as they've ever been. There's something out there for almost every taste and level of interest – GamePro offers unique, mature coverage, while GameFan brings the "video games, hell yeah!" temperament, and EGM offers something between those two extremes. The official magazines might get scrutinized for being biased towards their corporate overlords, but all three offer comprehensive coverage of their designated platforms. In a time when the Internet rules all and updated information is as easy as checking your Twitter account via your smartphone, there's still something to be said about sitting down in your favorite chair and thumbing through a magazine. When considered a monthly time capsule into the world of gaming, their value can go far beyond the "yesterday's news" attitude of the Web.