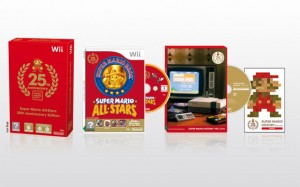 Nintendo's Wii re-release of Super Mario All-Stars this past December sold out almost as fast as stores could stock it. And gamers looking to play Mario's original adventures with a 16-bit makeover were left hanging as no new copies were in sight
But it looks like Nintendo plans to reissue the compilation next month with a limited "final" print run beginning on March 13. So if you want to own Super Mario All-Stars for your Wii, you better plans to skip work/school on March 13 now.
In addition to a game disc containing Super Mario Bros. Super Mario Bros.: The Lost Levels, Super Mario Bros. 2 and Super Mario Bros. 3, the All-Stars package include a 32-page Super Mario History book featuring "interviews, behind-the-scenes details and rare concept art" as well as a soundtrack CD featuring music from the entire series.