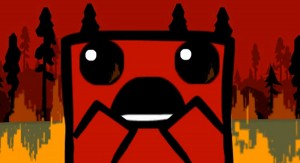 Late last night, Team Meat announced two new chapters for players to complete in the XBLA version of their extravagantly-crafted Super Meat Boy. The two chapters – titled "Expert Remix" and "Cramps" – are totally free for current owners, and collectively feature 40 new levels for players to whiz through.
The expanded levels are encompassed under the name "Teh Internets," by collecting 15 bandages or completing 40 levels in the main game. 20 of the levels (or half of the content) are user-created, which marks Team Meat's first release of user-created content. They also stated that more developer and user-created levels will be coming in the future, adding to the game's excellence.
These levels are XBLA-exclusive for now, but Team Meat has promised that PC gamers will be able to sink their teeth into them shortly.
Check out Team Meat's page for more info, as well as images of the new stages.