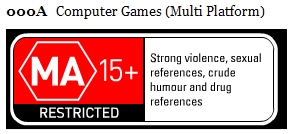 The Internet is abuzz today with the news that Take-Two Interactive is working on a secret game dubbed "000A." The game's existance was leaked after a rating for the title was discovered on the Australian Classification Board. The game has received an OFLC rating of MA-15+ for "Strong violence, sexual references, crude humour and drug references."
Speculation about what 000A could be has run rampant from the highly possible (the previously announced PS3-exclusive Agent) to the ridiculous ("Maybe it's Grand Theft Auto V!"). But I think there's a much more obvious (and mundane) explanation for 000A: it's Duke Nukem Forever.
Think back to your experiences with Duke Nukem: there's always lots of violence, Duke makes an overabundance of sexual references, the series is absolutely dripping with crude humor and I remember a drug reference or two. Plus, the content descriptors are stunningly similar to the game's Mature rating from the ESRB (Intense Violence, Blood And Gore, Strong Language, Mature Humor, Nudity, Strong Sexual Content and Use Of Drugs And Alcohol).
And here's the kicker: Duke Nukem Forever doesn't have an OFLC rating yet. Put it all together and 000A spells Duke Nukem.
We've contacted Take-Two about 000A and we'll update this story when we receive their response.