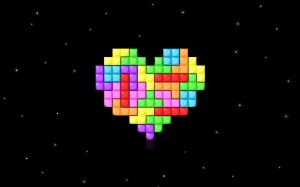 With a slew of newly-announced merchandise, Tetris promises not to leave their long-time players feeling burned out. This year, Techno Source will be releasing Tetris Link, a tabletop strategy game where players must link Tetriminos while preventing their opponents from doing so. The game is intended for two to four players, and is estimated to retail around $25.
In addition, Blue Planet Software will be releasing a card game (Wait….?) version of Tetris, simply called Tetris: The Card Game. Soon to follow are both a dice game, and a single player strategy game.
Another interesting announcement entailed the release of Tetris Premium Wall Graphics, which comes as no surprise – with all the videos of Tetris being played on buildings, why would it be?