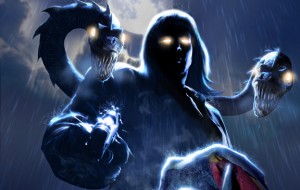 In an announcement today, 2K Games stated that they have been working on a sequel to 2007's action/shooter hybrid The Darkness. The Darkness II continues the story of Jackie Estacado, protagonist and demon-armed city-dweller of the first game. No word has been given on whether Faith No More's Mike Patton would return to voice the demonic creatures, but 2K has revealed Digital Extremes as the game's developer, again working out of the popular The Darkness comic book series.
Marc Silvestri, co-creator of the comics stated the following:
"Yeah, call me biased, but this second installment of Jackie Estacado's epic saga is – in my humble opinion – one of the most brutally cool games I've ever played. 2K Games hammered this one out of the park."
We'll see, Marc. We'll see.
The Darkness II is expected to arrive on Xbox 360, PS3, and PC this fall.