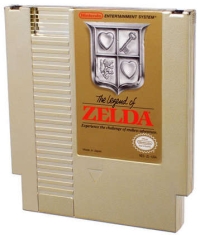 February 21, 1986 was an important day in video game history. 25 years ago today The Legend of Zelda was released on the Famicom Disc System in Japan. The game would cross the Pacific and receive an NES release a year later.
Widely recognized as one of the greatest games of all-time, Link's first quest set a new standard for action-adventure games and has been re-released multiple times over the years. It was the first game in a franchise that now includes 19 games with a 20th, The Legend of Zelda: Skyward Sword, set for release this year. It also came encased in an awesome gold cartridge that inspired many of the series' pre-order bonuses over the years.
1UP has put together an amazing retrospective of the franchise including "The 25 Coolest Zelda Videos," "25 Things You Didn't Know About Zelda," "25 Zelda Things You Didn't Know Existed" and a whole lot more.
So happy anniversary to Link, Zelda, Ganon… even Navi.