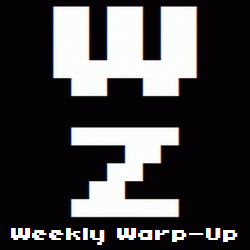 No, that's not a typo. Welcome to the Weekly Warp-Up, your weekly wrap-up of the biggest and the best articles posted at Warp Zoned this week…
In case you missed it, we're giving away a download code for the Xbox Live Arcade version of Super Meat Boy. A winner will be chosen tomorrow, so now's your last chance to win one of the best XBLA games of 2010.
Get Warp Zoned!
It wasn't too surprising when Activision announced that they're retiring the plastic instruments for 2011. So instead of an encore, we delivered A Eulogy For Guitar Hero and talked a little about how the series should change if it ever comes back. We also discuss the demise of the Hero franchise in Episode 4 of the Warp Zoned Podcast, along with a disturbing amount of Poke-love.
With the Hero franchise unplugged for the time being, Activision's got their plate full with a bevy of licensed titles including a Spider-Man game scheduled for release this Fall. The company is also likely producing a game based on next year's The Amazing Spider-Man film and we speculated on what that game might look like.
And speaking of speculation, we examined the State of the Video Game Magazine as of 2011 and discovered that the magazine may not be as dead as we all thought it was.
Hit the jump for the rest of the Weekly Warp-Up.
The Week in Reviews…
The Week in New Games…
The Week in Announcements…
And Finally…
The Smithsonian is creating an exhibit honoring the "Art of Video Games" and they've asked the public to help decide which games from the last 40 years are the most artistic.
But we know which ones are the most therapeutic as a new study has revealed that casual games can help depression.