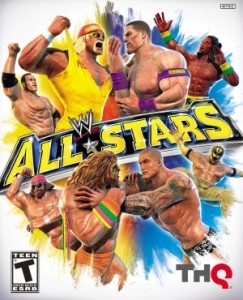 IGN has completed their two part unveiling of the complete WWE All-Stars roster with an additional seven Legends, eight Superstars and six more DLC wrestlers. These 15 wrestlers join the 15 wrestlers announced last week to give the full roster a grand total of 30 fighters.
As with last week's reveal, IGN uploaded new screenshots and video of each wrestler, giving us a very in-depth look at the game.
So we know who made the final cut and we know that The Big Bossman, Chris Jericho, Jerry "The King" Lawler, Michael Hayes, Mark Henry and R-Truth will be added to WWE All-Stars at a future date through a DLC expansion pack. We also know that Howard Finkel and Paul Bearer will be included in the game as "non-wrestling talent."
So with all out of the way, jump off the top rope for a look at the second half of the WWE All-Stars roster.
The Legends
"Stone Cold" Steve Austin
Shawn Michaels
Mr. Perfect
The Rock
Jimmy "Superfly" Snuka
Ricky "The Dragon" Steamboat
Ultimate Warrior
The Superstars
Big Show
John Cena
CM Punk
Drew McIntyre
The Miz
John Morrison
Sheamus
The Undertaker
WWE All-Stars will be available for the PS2, PS3, PSP, Wii and Xbox 360 on March 29.