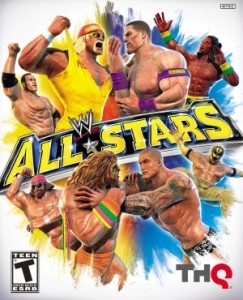 Well, half of it anyway.
IGN has managed to wrestle the full roster to the upcoming WWE All-Stars away from THQ and they plan on publishing it in two parts. Part one appeared today, revealing eight legends, seven present-day superstars and five fighters that'll only be available as downloadable content. IGN also revealed that Larry "The King" Lawler and Jim Ross will be providing the color commentary.
Screenshots and video of each wrestler were also included, giving us our most in-depth look at WWE All-Stars yet.
So, let me ring the bell and reveal (after the break) the first 15 wrestlers in WWE All-Stars…
The Legends
Andre the Giant
Eddie Guerrero
Bret "The Hitman" Hart
Hulk Hogan
"Rowdy" Roddy Piper
Jake "The Snake" Roberts
"The Macho Man" Randy Savage
Sgt. Slaughter
The Superstars
Edge
Kane
Kofi Kingston
Rey Mysterio
Randy Orton
Jack Swagger
Triple H
The "Downloadable Talent" includes "The Million Dollar Man" Ted DiBiase (boo to THQ for not including him in the main game), Ted DiBiase Jr., Dusty Rhodes, his son Cody Rhodes, and the two original members of the Legion of Doom/Road Warriors (Hawk and Animal).
IGN plans to unveil part two next Thursday, February 24. WWE All-Stars will be available for the PS2, PS3, PSP, Wii and Xbox 360 on March 29.