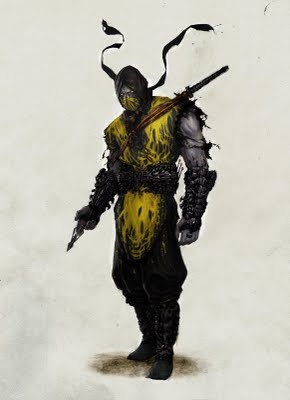 March 8 was Senior Editor Nicole Kline's birthday and PlayStation must have taken notice as the PS Store's update was pretty strong all around.
The Demos section is the star of the show here, with the anticipated Mortal Kombat for PlayStation Plus subscribers and Tiger Woods PGA Tour 12: The Masters for everyone. Sports fans should definitely check out the latter as it's doing some really interesting things.
A lot of killer DLC has also arrived, with new content for Dragon Age II, Assassin's Creed: Brotherhood, and that Need for Speed Hot Pursuit: The Porsche Unleashed pack we've been talking about. Even our (not so) beloved Mindjack got an add-on.
Lastly, you might want to be watching the sales, as the PSN Gamers Choice winners have been announced and these excellent titles are half off for PlayStation Plus subscribers and a third off for regular users. Hit the jump for the highlights and head to the PlayStation Blog for the full list.
Downloadable PS3 Games
TestYourself Psychology ($2.99)
Ever wondered who you really are and what you are better designed for? TestYourself is a series of interactive psychological tests that combine science and fun and give you real scientific analysis of each aspect of your personality and mentality! This first pack of tests, TestYourself: Psychology, analyzes two areas of your psychological structure — Nervous System and Intellect. Start reading this manual to you, you are worth the story! (ESRB Rated E)
PSone Classics
Disney's Hercules ($5.99)
Play as Hercules and go from zero to hero! Battle through a series of action-packed levels to prove you are a true hero! (ESRB Rated E)
Disney's Peter Pan ($5.99)
Take part in a Never Land adventure! Join Peter Pan and The Lost Boys in this game based on the Disney classic. (ESRB Rated E)
Disney's Lilo & Stitch ($5.99)
Get ready for a Hawaiian adventure with Lilo and Stitch in this game based on the Disney classic! (ESRB Rated E)
Disney/Pixar Toy Story Racer ($5.99)
Join all of the Toy Story crew in this fun racer! Use your power-ups and put the pedal down to cross the finish line first! (ESRB Rated E)
Disney/Pixar Monsters, Inc. Scream Team ($5.99)
Join Mike and Sulley as they train to become some of the scariest monsters around! Do they have what it takes to become top Scarers? (ESRB Rated E)
Disney/Pixar Toy Story 2 ($5.99)
Woody has been stolen by a scheming toy collector! Now, Buzz Lightyear must leave the neighborhood to save his best friend! (ESRB Rated E)
Disney's The Emperor's New Groove ($5.99)
Emperor Kuzco was turned into a llama by his loyal advisor! Now, he must team up with a simple citizen in order to return to the palace and reclaim the throne! (ESRB Rated E)
Disney/Pixar A Bug's Life ($5.99)
Play the role of Flik, a klutzy but inventive worker ant, as he searches for other insects to help defend his colony against the cruel grasshoppers! (ESRB Rated E)
R4: Ridge Racer Type 4 ($5.99)
Race in the Grand Prix and drift through every corner for that checkered flag win! Famous mascot, Reiko Nagase, waits to congratulate you at the finish line. (ESRB Rated E)
Downloadable PSP Games
Phantom Brave: The Hermuda Triangle Digital – Public Release ($19.99)
We Meet Again! Again… With Even More This Time! In the world of Ivoire, there is a placed called Phantom Isle. Here, spirits can return to the world as phantoms, caught between death and life. Phantom Brave takes a new spin with new events involving the Heroes of the Hermuda Triangle! (ESRB Rated T)
MLB 11: The Show ($29.99)
The #1 selling MLB franchise on PlayStation is back with MLB 11 The Show. Updated rosters, new stadiums, personalized batting stances and AI improvements bring even more realism. Perfect your skill, get to the Big Leagues and become an MLB Superstar in Road to the Show. Get ready to battle and ignite intense rivalries in Rivalry Mode. Welcome to the Show! (ESRB Rated E)