Bastion is the first title from Supergiant Games, a small studio consisting of about "six dudes". The game is poised to be the next downloadable smash hit with its endearing art style, familiar mechanics, and novel use of narration. The team has gone from the big developer culture of EA to a more independent setting, and so far the response from fans has been sensational. We got to play the demo of Bastion and talk with Creative Director Greg Kasavin at this year's PAX East.
Platforms: PC, Xbox 360 (Version Played)
Publisher: WB Games
Developer: Supergiant Games
Genre: Old-Timey Isometric Action RPG
Release Date: TBA 2011
ESRB Rating: Rating Pending
Bastion plays like your standard action RPG. You run through the levels engaging in combat with enemies and gaining XP as well as shards which work as currency to purchase new equipment and develop your character. The art style is also somewhat typical of downloadable titles. It's very colorful and imaginative, which is easier to pull off and arguably more effective in 2D than rendering gajillions of polygons like most full retail games do. But the art style in Bastion is clearly a cut above the rest of the downloadable games today.
"Our artist, she's amazing, she does like 99% of the art all by herself, it's all her work," Greg Kasavin, Creative Director at Supergiant Games, told us. You may remember Greg from his video reviews while he was the Editor-in-Chief at Gamespot, or from the Command School video features for . Greg has a tangible passion for gaming, and his experience in front of a camera made him convey that enthusiasm for Bastion really effectively. "It's all fully painted 2D high definition art work, so we're really proud of our art style." That pride is well placed as the hand-painted style makes every moment of the game a joy to watch.
The story for Greg and his team is somewhat typical of the studios you see today making games like Bastion. They come from one of the bigger publishers – as a result of either layoffs or disenchantment with the corporate structure – and they branched out to do their own thing. "It's our first game together as a studio, the co-founders and I worked together at EALA prior to forming this company. So yeah, it's our first game and it's just been awesome to see people responding to it really well and getting really excited about it," Greg said. Like the development culture, the kinds of games they make has also changed considerably. "We worked on the Command & Conquer series, so it's a bit of a leap. We worked on Command & Conquer 3 and Red Alert 3 together and left in August of 2009." The next month, they started work on Bastion. "One of our guys did work on Generals. We're all like the remnants of the Generals team."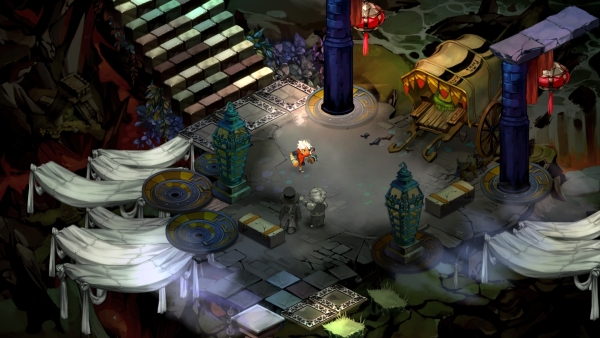 Our discussion then shifted from company history and art style to narration. While the aesthetics certainly distinguish the game, it's really the use of the in-game narrator that has gotten Bastion its buzz. "(It) sort of has to be experienced… talking about it doesn't really do it much service because the idea of an old man talking to you while you play doesn't sound that cool, but in practice we're really happy with it and people's response to it." The idea of a narrator interacting with the player's actions could be an entire game concept on its own; I'm sure many of Supergiant's peers are jealous they hadn't come up with it themselves. As such, I was very surprised that it was something that just kind of came to the team along the way.
"It happened kind of through prototyping. It wasn't there on day one, it was essentially something that we tried one day," explained Greg. "Our voice actor, he's a childhood friend of one of the studio co-founders. We wanted to do stuff with story and wanted the game be more than just fun and have an emotional experience to it." It also had practical implications on the design, outside of the storytelling, as the team didn't want the flow of play to be interrupted by a wall of text for the player to read.
"We kind wanted to have our cake and eat it too, as far as a game you can pick up and play, but there's story to it also. And one day we were like 'hey, why don't we get Logan [Cunningham] to record a few lines?' And we liked it immediately; we sort of very quickly never turned back. We're like, 'alright, we're going whole hog with this,' playing around with some of these interactive moments, developing the character in great detail, actually." What makes the technique even more effective is that the narrator is a story character, whose motives aren't entirely clear. "Our narrator character is very key; he has his whole back story you can piece together as you listen to him."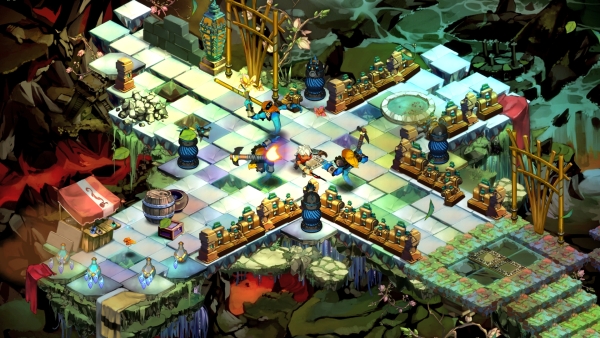 To be honest, the narration in the demo wasn't as mind blowing as many journalists made it out to be after PAX Prime 2010. This came to me early on when I began the game. As you're moving along, the path you're running on actually forms all around you as you go. After I started seeing this, I stopped just to see if it was only building as I ran, and sure enough, the scenery stopped constructing itself as soon as I ceased moving. Ironically, this is when the narrator chose to say something like, "the ground pops up beneath him, he doesn't stop to wonder why…" Instead, I had already stopped and halfway through his sentence I began walking backwards to see if the environment would undo itself. This central aspect of the game isn't all that hard to break.
But that doesn't takes away from how innovative and effective it is. It saves a lot of time for tutorial purposes, and the voice actor Logan is very adept at setting the tone of the game and keeping you entertained. It's somewhat comparable to tutorials in shooters where a drill sergeant tells you how to aim your gun and such, but in an RPG with more depth than those titles, it goes a long way in creating a delightful world you really want to lose yourself in. Not to mention how cool it sounds when the protagonist "robs a scumbag of his last meal."
It also has other functional aspects. In RPGs like this one, it's easy to not know what object to check out next, especially when nothing stands out as being more interactive. The narrator telling you the protagonist thinks about examing this object over there is a really cool interaction between the player and the game. Plus, learning all the gameplay options you have to mess with your equipment, environment, and enemies can be easy to forget when reading on a screen, but having the narrator explaining it, you then performing it, and usually getting a comment on it afterwards is a great way to make sure the player remembers the mechanics.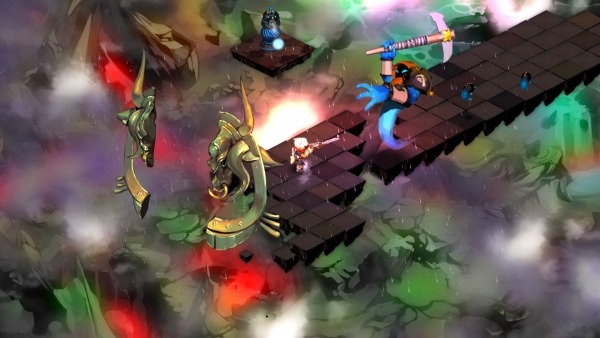 The combat also embodies the sense of familiarity with the other aspects. Combat is typical in games like this, where you get in a few hits with your melee or a couple quick shots with your ranged attack, then either block or dodge out of the way of an enemy's attack animation. A lot of the game also involves dodging projectiles from pillars and bouncing back their shots at the right angle with your shield in order to damage them. A really cool use of this was during a chase scene where the entire environment is shaking and you're trying to get away as fast as you can. These pillars are shooting at you, while sometimes obstacles pop up that you have to break and occasionally monsters try to stop you from knocking them down. It seems like there will be a great mix of variety in this game, that you'll be exploring and solving puzzles, fighting enemies in a set location, dealing with bosses who can manipulate the environment, then running on these thrilling chase scenes. As I experienced all of this in the demo alone, I can tell Bastion is going to have some truly great pacing.
To top off this great mix of art and gameplay, there seems to be tons of little tidbits of neat information sprinkled around for the player to find. A lot of them are contained in the items and powerups the players can utilize to develop his/her skills. One of them was the "Fetching Fizz" – the description stated: "started as a ballroom prank, but evolved to become popular with miners and scrapworkers. Metallic aftertaste."
As of right now, Bastion is due for a summer release on Xbox Live Arcade, with a PC release coming at a later date. When asked about why there will be a delay between releases, Greg responded, "it's kind of the practical reality of us being six dudes. We thought about doing it for every platform at the same time, and it would've just meant a quality hit to the game." There's also no committed delivery service for PC yet, but at the mention of Steam, Greg said "hopefully yes, I'm a big fan of Steam."
Regardless of what platform and how the game shows up, Bastion will be one to look out for later this year.