Bejeweled was one of the first breakout "casual" games, and has been a phenomenon for many years now, evolving into numerous forms. The madness spread to Facebook with Bejeweled Blitz, a fast-paced take on the formula that PopCap has established. Now, as part of Microsoft's "House Party" campaign, Bejeweled Blitz has hit Xbox Live arcade in the form of Bejeweled Blitz Live, marking the second time the franchise has appeared on the platform. Not only does the XBLA version of Blitz bring all the addictive gameplay from the free-to-play Facebook edition, but it features the kind of gameplay options that one might expect from Xbox Live, along with a new "Twist" to the proceedings. Is that enough to make you pony up the 800 Microsoft Points when the game can be played for nothing? That's the ten dollar question… since 800 Points equals ten dollars, and all.
Platform: Xbox 360
Publisher: PopCap
Developer: PopCap
Genre: Gem Rearranging Simulator
Release Date: February 23, 2011
ESRB Rating: Everyone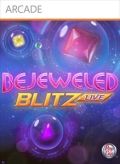 The basic premise of Bejeweled Blitz Live is very simple. Regardless of whether you go with Classic or Twist, you're given 60 seconds to arrange and match gems as fast as possible. The Classic mode is your traditional "arrange three gems in sequence" gameplay, something most gamers know how to do. Twist is reminiscent of Microsoft's Hexic, where you're able to spin gems around and match them in different ways – it's possible to match a maximum of six gems at one time. While old Bejeweled games are laid back and relaxed, Blitz requires lightning-fast reflexes and quick thinking to match the gems up as the clock ticks. The ability to match while other gems collapse around you speeds things up, but it always seems like there's never enough time – it's a constant battle against the clock.
This, of course, is exactly why Bejeweled Blitz Live is so addictive despite the game being designed around these short gameplay sequences. 60 seconds seems short, but it lends itself well to the "just one more game" that turns into about 50 more games; after all, you're only wasting a minute of your time. Where Blitz somewhat stumbles is in its different control scheme, specifically in Classic mode. In Bejeweled 2 for XBLA, you just pressed A and used the d-pad to signify which direction you wanted to go; this time the directions are mapped to the face buttons. Want to move the gems upward? Press the Y button. Move 'em left? The X button takes care of that. It eventually makes sense to handle things this way, but at first it was a bit jarring, and adds a stumbling block to the learning curve. The game also features an experience system that doles out XP based on your score, but there seems to be no real purpose other than bragging rights and unlocking Achievements.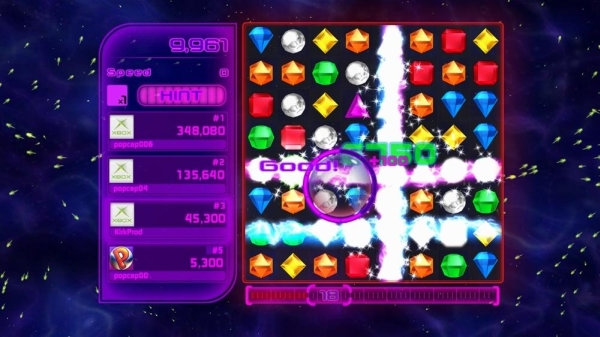 Though there's a very narrow focus here, Bejeweled Blitz Live does offer a strong selection of gameplay modes to make it worth its price tag. While the traditional single-player mode is the bread-and-butter of Bejeweled, the game features both a local and Xbox Live-enabled head-to-head battle mode. Here, your goal is simply to score more points than your opponent. To make things more crazy, there's an option for 16-player "party" play – it's a bit self-explanatory, but Party Mode lets up to 16 players duke it out. Imagine that many gem-busting explosions on your television screen. The game also features something of a meta-game with your Xbox Live friends – it combines all your high scores into one "Friend Score." It's actually a cool concept, but it's heavily based on how many friends you have that actually have and play the game.
There's not a lot to Bejeweled Blitz Live, but what's here is really enjoyable. The ability to play the game in short bursts means it's playable whenever you have some free time, and there are enough multiplayer modes to occupy your time as you work to beat your high score. The time limit adds some major intensity to your Bejeweled experience, leading to a frequent need to play the game for hours on end just to put that clock in its place. Of course, the single-minded nature of the game makes it the ultimate in "not for everyone" gaming; you either dig the concept or you're deleting the trial from your hard drive and going back to Bejeweled 2's Endless Mode. For those who do find themselves drawn into the Blitz, you'll find a polished and addictive puzzle game that proves you don't need incredibly deep game design to be fun.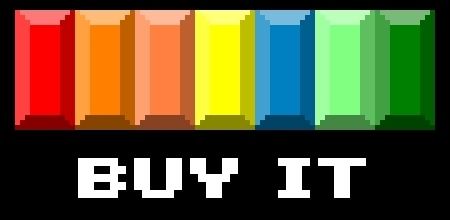 Review Disclosure: A review copy of Bejeweled Blitz Live was provided by PopCap Games for the purposes of this review.