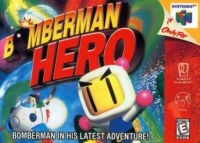 It's Monday and Nintendo has updated the Wii Shop Channel with two explosive games.
Blasting off first is Bomberman Hero, an N64 game that is now available on the Virtual Console. And blowing up on WiiWare is Heavy Fire: Black Arms, a light gun shooter from Teyon.
The three additions to the DSiWare service are a bit less combustible, but Gamebridge has released GO Series: Earth Saver, which is the closest thing to Armageddon The Game there'll probably ever be. Other addition include the "platform racer" Jelly Car 2 and the swinging platformer G.G Series: Horizontal Bar.
More information on all of these games can be found after the break.
WiiWare
Heavy Fire: Black Arms
Publisher: Teyon
Players: 1-2
ESRB Rating: T (Teen) – Blood, Violence
Price: 500 Wii Points
Set out on a dangerous campaign in South America in a continuation of the popular shooter Heavy Fire: Special Operations. As a Special Forces recruit, you will take part in the operation to stop an illegal arms trade. Heavy Fire gives players a classic arcade light-gun experience, enhanced with stunning graphics and exciting new features. Destroy the biggest weapon cartel, Fuerza de Voluntad, which is influential all over the continent. Team up with a friend and experience an immersive co-op mode. Enjoy dynamic minute-to-minute game play in various weather conditions and settings in the heart of a jungle. Smash objects and interact with them. Perform quick events and face your enemies with new powerful weapons. With plenty of weapon types and various vehicles at your disposal, put an end to the expansion of the paramilitary organization. Take full advantage of the Wii Remote controller and optional Wii Zapper accessory.
Virtual Console
Bomberman Hero
Original Platform: Nintendo 64
Publisher: Hudson Entertainment
Players: 1
ESRB Rating: E (Everyone) – Mild Violence
Price: 1,000 Wii Points
Bomberman returns in his own full-on action game. One day, out of nowhere, a spaceship crash-lands on Planet Bomber. Journeying to the Peace Mountains to investigate, Bomberman encounters Pibot, the dazed robot pilot. According to Pibot, the evil Garaden Empire attacked Primus Star and kidnapped Princess Millian from Pibot's escape ship. Hearing this, Bomberman vows to save the princess, even if he has to travel the length of the galaxy to do it. Bomberman is equipped with an infinite supply of bombs and can count on a variety of upgrades to aid him in his quest. His search for the princess takes him to five exciting planets, reuniting him with his old friend Louie and uncovering new items. Fly, swim, shoot and bomb your way through the galaxy and save Princess Millian.
Nintendo DSiWare
G.G Series: Horizontal Bar
Publisher: Genterprise Inc.
Players: 1
ESRB Rating: E (Everyone)
Price: 200 Nintendo DSi Points
This is a new type of action game that will have you swinging and jumping from bar to bar, just like the parallel bars in gymnastics. The controls are simple. Grab onto a bar, add momentum to your swing by pressing left or right on the Control Pad, then jump and spin to the next bar by pressing the A Button. Gauge the force of your swings and the timing of your jumps just right to cross the course in the fastest time possible. Do you have what it takes to be a star gymnast?
GO Series: Earth Saver
Publisher: Gamebridge
Players: 1
ESRB Rating: E (Everyone) – Mild Fantasy Violence
Price: 500 Nintendo DSi Points
A giant meteorite is headed straight for Earth. Land your spaceship on the meteorite and set explosives to break off small pieces so the rock breaks up in Earth's atmosphere. Chunks of meteorite that are too big will smash into Earth, wiping out mankind. As an explosives expert, you can plant a series of bombs to create chain-reaction combos, easily blasting off chunks of rock the size of houses. You'll also need to tackle the many strange alien life forms you encounter by either blowing them up or cunningly blasting around the piece of rock they're standing on so they fall with the meteorite. Can you save Earth from obliteration and secure the future of mankind?
Jelly Car 2
Publisher: Disney Interactive
Players: 1
ESRB Rating: E (Everyone)
Price: 500 Nintendo DSi Points
Jelly Car 2, the hit driving platform game, is here and fully loaded with three game modes and more than 30 levels. Post high scores, best times and longest jumps in the Hall of Fame. With so much squishy goodness, you'll want to drive Jelly Car 2 all around town. In Classic mode, drive your squishy car and use your special abilities to drive through squishy worlds. In Factory mode, guide the falling parts into matching chutes, tap the levers to open different pathways and guide each part down the conveyor belts. In Long Jump mode, you're going for distance and speed – watch out for objects that can slow you down, and look for objects that can help give you a boost!