Brink was playable at PAX East this weekend, and it was fun. Not that I'm surprised – I've been kind of keeping myself out of the loop for this one on purpose because everything I hear is more of what I want, and that makes me want to remain spoiler-free. But being in the media makes it impossible to do that, and I was excited to get some hands-on time with the game. Brink is being developed by Splash Damage and published by Bethesda, and focuses on the acrobatic parkour style that's becoming more common in games (see also Mirror's Edge). There are two factions, the Resistance and Security, who are vying for control of a city called the Ark. The Ark is a floating city, built to house 5,000 people – but now, Earth has been flooded, and tens of thousands more fight to take control of the city, which is now on the "brink" (see what they did there?) of a civil war.
Platforms: PC, PS3 (Version Played), Xbox 360
Publisher: Bethesda Softworks
Developer: Splash Damage
Genre: First Person Shooter
Release Date: May 17, 2011
ESRB Rating: Teen
This frenetic first-person shooter is an amalgam of many desirable gameplay functions. The first part the Bethesda representative walked me through was the slightly overwhelming customization options. There are dozens of options for every aspect of your character – you not only get to choose the type of clothing you're wearing, you also get to choose the color or pattern on it. You have many body modification options as well – you can choose to have tattoos on your arms, or cover them in bandages, and you can choose scars or tattoos on your face as well. But be warned – any tattoos you apply to your character are permanent. This isn't so bad because they encourage you to have multiple characters, allowing you to dabble in each of the classes and choose which type of character you want in each situation.
After setting up my character, I chose our primary and secondary weapons and perks (I chose being able to reload while sprinting, because how many times have I fantasized about doing that in a first person shooter?). You also get to choose the body type of your character, and that determines what types of weapons you can carry. With a medium build, most of my guns were SMGs – a heavier build could carry an RPG or other heavier weapons. I chose an SMG as my primary with a handgun as my backup, though having two SMGs was awfully tempting.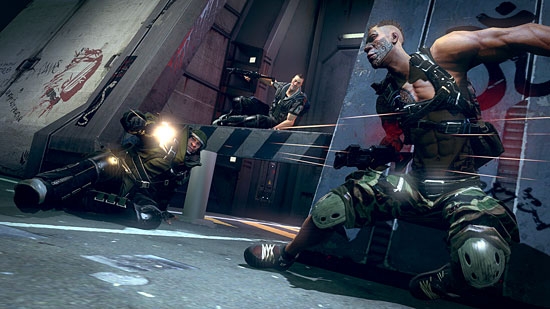 I hopped into a multiplayer game as soon as I was done tweaking my character. It's also important to mention that the single player, multiplayer, and cooperative experiences are all integrated here – you can hop from a single player game straight to a multiplayer or cooperative game with the same character. I'm not exactly sure how this will work, but the way the Bethesda rep explained it was that it would all be able to tie together seamlessly, so that you wouldn't be sure if your game was full of bots or players until you got there. It's an innovative take on a functionality some players are getting bored with, and may draw in a crowd eager for something different.
The objective was to protect an NPC who was wounded, heal him when he needed it, and try to stay alive myself. We were getting hammered at every turn, but the gameplay was fast-paced and exciting. It reminded me of Borderlands, but with a much better aiming system and a broader attitude towards cooperative play. I was a medic, which means that I could give the players around me buffs for healing, and also revived downed players by throwing syringes at them, at which point they could hold down L3 to revive themselves. Players can choose to wait a set amount of time for a medic, or respawn at their camp and find their way back to the objective. Like the medic can boost the health of their players, the engineers can give extra bullet damage to their teammates as well.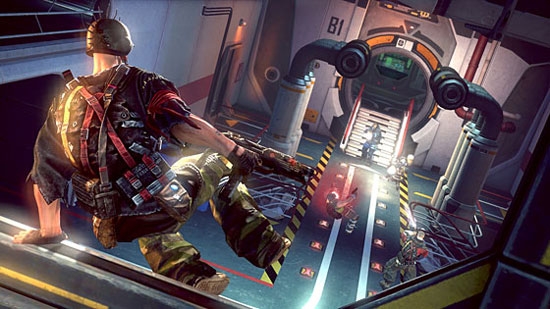 The shooting controls are pretty typical, with some fun additions like the ability to slide thrown in for good measure. I had a blast – no pun intended – fighting our way through the bad guys to get to the goal and protecting our injured character. The grenades were not as potent as I'd hoped, but tossing one into a group of enemies did enough damage to help us out while we were filling them up with bullets.
Everything about the game was fun, and I'm glad it's shaping into a decent first-person shooter. It's difficult to stand out in a genre so saturated, but this hands-on experience definitely boosted Brink to a pre-order purchase for me. It felt like a mash-up of Borderlands and Team Fortress 2, with all the great variations both games offer. If you're into these games, keep your eye on Brink, scheduled to be released on May 17th of this year.