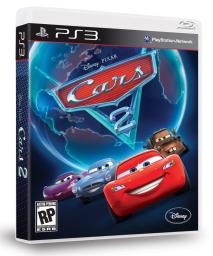 Disney's Cars 2 will be racing to theaters this Summer and, as expected, the Pixar production will be towing a video game adaptation behind it.
Cars 2 on the PS3 will take things a step further by bursting out of the screen in full 3D. If the game detects a 3D TV, the it will automatically adjust so gamers "experience 3D in every aspect of gameplay" including combat racing, menus and multiplayer.
"The advancement of 3D technology will allow us to immerse the player into the Cars 2 game environment in a whole new way," said John Blackburn, vice president and general manager of Avalanche Software, developer of Cars 2. "The 3D effects will ratchet up gameplay in ways that will have fans' hearts pounding when they embark on dangerous spy missions, while our innovative multiplayer with four simultaneous 3D ports will bring a whole new dimension to PS3 gaming."
Cars 2 will be available for the DS, PC, PS3, Wii and Xbox 360 on June 21st.