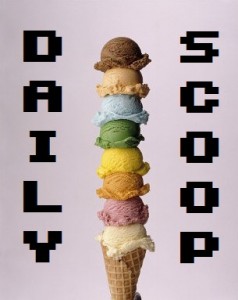 The 3DS launches this Sunday, which is pretty exciting! I'm looking forward to finally being able to play with one that isn't attached to either some sort of mounted table, or a hot chick walking around with a giant battery pack on her back. Wait, actually, is there a model of the 3DS that comes with a hot chick? Nintendo should really consider that.
Anyway, speaking of Amazon, if you pre-order your 3DS there, or if you've already pre-ordered it there, you'll be getting a $25 promotional credit towards a 3DS game from this list. They're also running an additional deal in which you get a $10 promotional credit towards another 3DS game when you buy a 3DS game. Potentially, it's some good savings on games that are $39.99. Realistically, I don't know if I want more than one of those games, and I hope those promotional credits will work towards games I actually want to buy later, whenever the games worthy of buying actually come out. Thanks anyway, guys!
Today's Amazon Deal of the Day in video games is Maximum Family Games's Sniper Elite for the Wii. It's $19.99 down from $39.99, and promises "specialized sniper technique training." According to customer Chris J, it's an "Excellent Game!" and worthy of five stars. So if you trust him, you should drop those 20 clams right now.
For the t-shirt crowd, Tee Fury satiates your need today: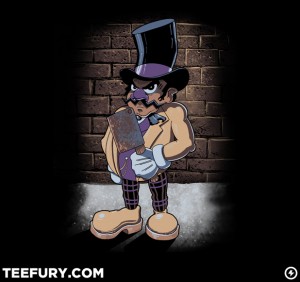 My initial reaction was that it was supposed to be a mash-up of Wario as the Demon Barber of Fleet Street, but apparently it's Wario as a Gangs of New York member. I like my idea better.