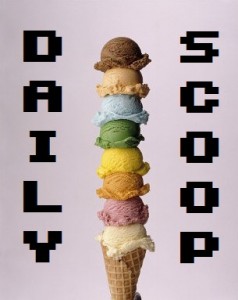 Pokemon Black and White are out today!! It's a rainy Sunday morning here in Philadelphia, but all that means is that if you're using Fire-type Pokemon, their abilities are weakened! This may mean that you decided against choosing Tepig, the Fire Pig Pokemon, as your starter, but with that little corkscrew tail, how could you resist??? If you haven't picked up the games yet, Amazon is still offering a $10 bonus for each, and if you are the kind of player who likes strategy guides, the official volume one is only $11.10 on Amazon as well. And don't forget – you have until April 10th to get the special Psychic- and Fire-type Pokemon Victini!
Today's Amazon Deal of the Day in video games is CTA Digital's Wii Sports Resort 8-in-1 Sports Pack. This collection of plastic add-ons for your Wiimote is 50% off today at $14.99, so if you don't have enough junk cluttering your controller area, feel free to add to it today!
To round out this amazing special edition of the Daily Scoop, I have not one, but TWO awesome t-shirts for you. The first one comes from Tee Fury and is for Chocobo lovers of all shapes and sizes: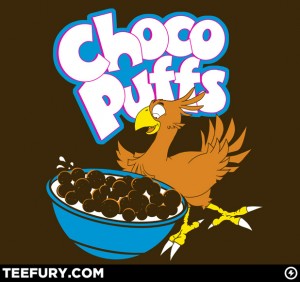 As far as I'm concerned, it is the perfect t-shirt for a Sunday morning.
The other comes from Ript Apparel, and is a delightful mash-up of games close to the hearts of both the casual and retro gamers: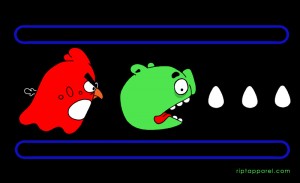 I hope these clever kids never stop making t-shirts.