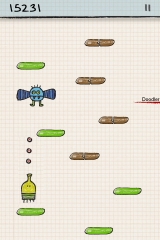 It seems like ages ago, but before a flock of Angry Birds took over the App Store, Lima Sky's Doodle Jump ruled the roost. Today, the mobile game is celebrating a big milestone and jumping to new destinations.
First things first, Lima Sky has proudly announced that ten million copies of Doodle Jump have been downloaded in the two years since its release. Just goes to show you that an addictive game can suck in a lot of buyers if the price is right.
But iPhone and Android owners will soon have to share Doodle Jump with their iPad and Xbox 360-owning friends. Set for release sometime in 2011, the iPad version of the game will include brand new content while the Xbox 360 version will be released through the Xbox Live Arcade (naturally) and include Kinect support.
But don't worry iPhone fans, the iPhone version of Doodle Jump will receive a free multiplayer update "very soon."