Full House Poker isn't Microsoft's first try at creating a card-playing franchise on the Xbox Live Arcade. That distinction actually goes to the Tik Games-developed Texas Hold 'Em, which was released way back in 2006. It seems that Microsoft has learned something in the ensuing five years, as Full House Poker is a superior game in almost every way; but is it a must-have XBLA release? I wouldn't go "All In" on that bet.
Platform: Xbox 360
Publisher: Microsoft Game Studios
Developer: Microsoft Game Studios
Genre: Poker
Release Date: March 16, 2011
ESRB Rating: Teen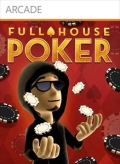 While both games center around the betting and bluffing of the poker room, they couldn't be more different. Texas Hold 'Em was designed for simplicity (doubly so since it was originally offered as a free download) and it showed. There were no on-screen characters and minimal graphical flair. On the other hand, Full House Poker invites your Avatar to the table with a presentation that is super slick. No longer gambling around a dank table where only the cards are visible, Full House Poker gives players a bustling casino as a backdrop and a fully controllable camera to focus on your opponents. By moving the camera around the table, you can attempt to "play the player" (as you'd do in real poker) instead of the playing the cards.
Holding the trigger buttons when placing bets will activate an "unsure" or "excited" animation for your Avatar. Ideally, these motions could be used to possibly bluff the other players, but they're fairly unnecessary and seem to be used randomly by both online players and bots alike. However, the game does reward smart play by handing out experience points for a smart fold or a winning streak or other good poker plays. In turn, these experience points unlock in-game costumes (including a "Dogs Playing Poker" mask), chip tricks and a wide variety of Avatar nicknames (literally just a few words that appear below your Gamertag).
Full House Poker includes Standard and Tournament modes for both single-player and online multiplayer play. There's also a Pro Takedown mode that pits your Avatar in a one-on-one showdown versus a specific AI bot. These showdowns (which seem to mirror the Scenarios mode of the earlier Texas Hold 'Em) are actually pretty enjoyable as the Avatars add personality to the bots' distinctive betting styles. But the real meat of Full House Poker is in the online play against real people.
Well, I guess "real" is relative term. At times, the AI feels more advanced than the IQ of your online opponents, as every multiplayer game will eventually devolve into multiple All-In bets, often when the player is holding no better than a pair. That's just what happens when real money isn't at stake. It's frustrating, but by no means surprising.
To combat this, Microsoft has packaged Full House Poker with the Texas Heat game mode, a "scheduled event" mode that is meant to evoke the live feeling of 1 vs 100. Unlike 1 vs 100, Texas Heat mode isn't a massively multiplayer poker tournament (after all, those take days). Instead, up to 30 players are crammed into a three-table tournament and players have a half hour to earn as many experience points as possible.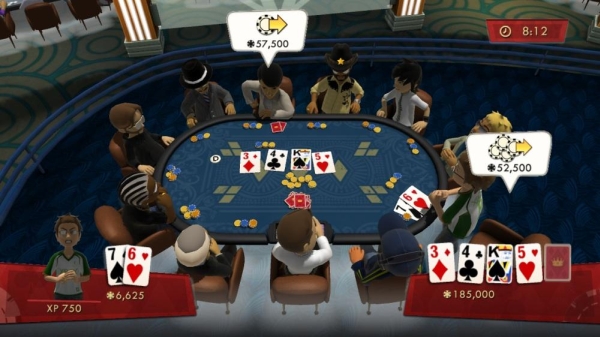 Aside from Texas Heat's scheduled times, there's not much that differentiates it from the other online modes. Each of the matches will feature a theme (use a female Avatar for bonus XP, use a male Avatar for bonus XP, level 10 and lower players get bonus XP, etc), but it's more or less an online tournament with a fancy loading screen. At least in Texas Heat mode the online players seem to take the betting a little more seriously.
At 800 Microsoft Points ($10), Full House Poker's ante is a little too rich for my blood. The game just oozes charm and style (and the way Avatars are integrated into the game is fantastic), but it's still just a simple poker sim. And it rarely does anything that you can't find for free at hundreds of online poker sites. Perhaps it's unfair of me, but I'd probably think a lot better of Full House Poker if it was offered as a free download like 1 vs 100 or Texas Hold 'Em.
If you really love poker, Full House Poker is the XBLA game for you. And I'd definitely recommend going All In if you've got a whole gang of poker-playing friends spread across the country. But for the average XBLA player who just plays a few hands now and again on Facebook? Well, you've got to know when to fold 'em and know when to walk away.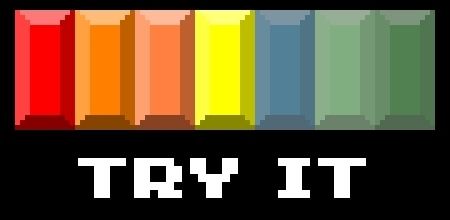 Review Disclosure: A review copy of Full House Poker was provided by Microsoft Game Studios for the purposes of this review.