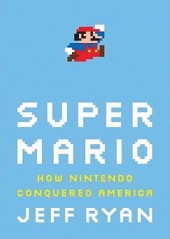 David Sheff's 1993 book Game Over: How Nintendo Zapped an American Industry, Captured Your Dollars, and Enslaved Your Children is considered one of the great "behind-the-scenes" stories about the video game industry. It was updated once in 1999, but has since fallen behind the times, missing out on both the GameCube and Wii eras.
That'll all change this Summer.
Penguin's Portfolio imprint will publish Jeff Ryan's Super Mario: How Nintendo Conquered America, a company history starting with the publisher's early 80s entry into the American video game market all the way up to the Wii's domination of this generation:
Nintendo has continually set the standard for video-game innovation in America, starting in 1981 with a plucky hero who jumped over barrels to save a girl from an ape.

The saga of Mario, the portly plumber who became the most successful franchise in the history of gaming, has plot twists worthy of a video game. Jeff Ryan shares the story of how this quintessentially Japanese company found success in the American market. Lawsuits, Hollywood, die-hard fans, and face-offs with Sony and Microsoft are all part of the drama.
Super Mario will be available as a hardcover, audiobook or eBook edition on August 4th.